USD

491 final plat, site plan approval delayed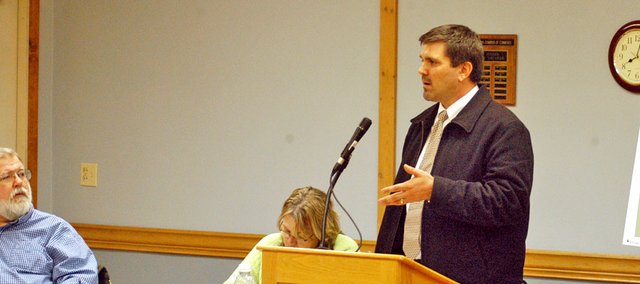 Eudora USD 491 is one step closer to beginning construction of the new Eudora Elementary School, but not as close as they would like to be.
The Planning Commission on March 5 approved the preliminary plat and preliminary site plan for the new elementary school. However, it tabled until April 2 approval of the final plat and final site plan.
Pending construction and storm water plans were the Commission's main concerns with the final plat and site plan.
Commission member Ken Adkinson also had issues with the use of the land to the south of the school. Superintendent Marty Kobza said during the meeting that three baseball diamonds on the school grounds would be made available to the city.
Adkinson said he would like to see more parking near the fields. However, Kobza stated the school district would not be spending the taxpayers' money wisely if it spent money meant for schools on parking for activities not affiliated with the school district.
"I think everything that they're asking for or had concerns about have been submitted and is under review and I think there are some minor details that have to be worked out," Kobza said. "Anytime you're starting a new project, there are going to be some initial bumps in the road and I think perhaps that's what we're facing, but I'm optimistic that those are going to get worked out as we continue forward."
The planning commission also had public hearings regarding the zoning of the land where the new elementary school will be built.
The land was zoned for residential agricultural use and USD 491 wanted it to be zoned for residential, single-family use.
Roger Rose, owner of the bar Cecil Monday's Bar and Grill voiced concerns in the public hearing. While he said he was for the new school being built, he was unsure of what it could mean to the future of his business.
Cecil Monday's sits approximately 800 feet away from where the school will sit. Rose worried he could lose his bar if new state laws were enacted stating the bar was too close to the school.
Kobza assured Rose USD 491 had no issue with the location of Cecil Monday's and tried to assuage Rose's concerns by reminding the Commission that Cecil Monday's was in its location before USD 491 purchased the property.
The zoning was approved.
In other actions, the planning commission:
¢ Approved the application for rezoning by Bob Durr, who is moving from the property he sold to USD 491 and building a new home acres across the street.
¢ Approved the preliminary and final site plans for a Subway Sandwich Shop that will be built on the property that sits immediately to the east of Simple Simon's Pizza.
More like this story