Back in the ballgame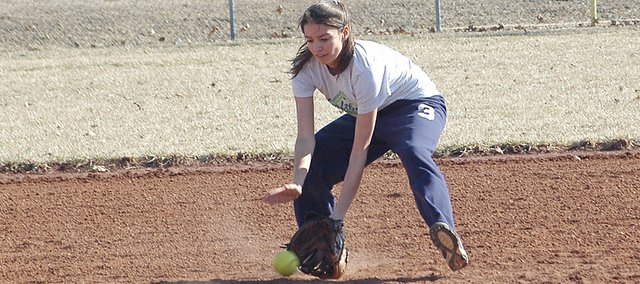 Eudora softball coach Cara Kimberlin is looking at twice as many faces at spring practice as she did last year. That's what happens when a team makes it to the state tournament championship.
The 2007 squad's deep postseason run brought in extra players and extra excitement for a return trip to the finals and, possibly, a state title.
"We absolutely expect to go back," Kimberlin said. "Every year, it seems like we take one more step so that would be the last step that's left."
The Cardinals entered the 2007 state tournament as a six seed but battled their way to the finals thanks to a 3-0 victory over Girard and a 2-1 victory over Andale/Garden Plain.
However, in the finals Hays-TMP-Marian blew Eudora out by a score of 9-0.
The Cardinals scored first in every sub-state and state game they played until the finals, and Kimberlin credits the Monarch's pitching change in the first inning with disrupting her team.
Sophomore catcher Evan Folks, a first team All-State selection as a freshman, said her team wasn't mentally prepared for the game.
"It was disappointing, just the fact that we lost as bad as we did," Folks said. "We could have played a better game."
Senior pitcher, and outfielder Mackenzie Salzman, a second team all-state selection last season, also had a tough time getting over the loss.
"Heartbroken. I was devastated by a loss that big," Salzman said.
However, Salzman said the heartache ultimately paid dividends.
"It motivated me to become better," added Salzman.
This season Salzman will make the switch from starting outfielder to starting pitcher. Salzman said she was a little nervous about the switch but also excited to put the game in her hands.
Kimberlin knows that she's going to need a lot of strong outings from Salzman but said the Cardinals success would be a team effort.
"I hate to point out one kid as more important than any other because in this game hitting and pitching have to co-exist - one's got to play right into the other," Kimberlin said.
Right now the team has its eyes squarely set on winning the league, but Kimberlin admits that her squad also has loftier expectations.
"If that's not your goal every single year, to go there and win a state title, then you may be practicing for the wrong reasons," Kimberlin said.
To make that state title a reality, the Cardinals will have to work even harder than they did last year, but with the excitement of last year's second place finish still fresh in their minds, Kimberlin expects her experienced players will be able to lead their team back.
"You can talk about how much fun it is, how exciting it is and the feeling you get from being there, but until you actually do it and actually get there, you don't understand it," Kimberlin said. "They remember that, hopefully, and will carry it over to the younger kids that are coming up."
More like this story