Coach hopes summer work translates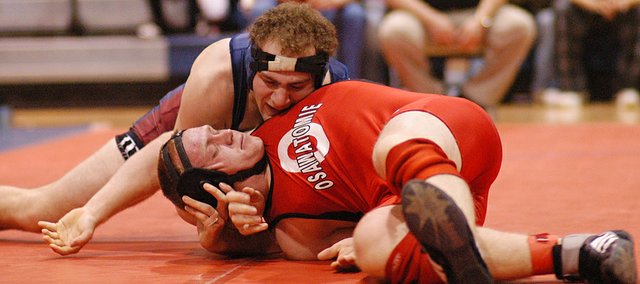 At the end of this wrestling season, Eudora coach Bill DeWitt would have described himself as frustrated.
DeWitt expects so much out of his teams that any disappointment gets him upset. However, when he had time to step back and see the progress his kids made throughout the year, DeWitt realized just how much his team accomplished.
"A lot of times where we get measured is in the end result, and I think I put a lot of emphasis on that too," DeWitt said. "When you don't achieve some of the goals you set at the beginning of the year you can really question your season. But when I watched film and put stuff together some of those kids improved tremendously from where they were at the beginning to where they were at the end.
"In retrospect, there was a lot of really good success from the season."
After a regular season full of ups and downs, four wrestlers qualified for the state tournament. Seniors Travis Clarke (140 pounds), Jake Love (160), Chase Rust (171) and Evan Meyers (189) all qualified for the meet, but only three of them competed because Rust sprained his ankle the week leading up to the first round.
All three met stiff competition early and fell in their first match. Clarke and Meyers each bounced back to win their next match before falling in their third, while Love lost his second match.
Each one of the wrestlers' first-round opponents placed in the top three of their respective weight class.
"We had to wrestle regional champs in the first round," DeWitt said. "Then trying to go through the (consolation bracket) was really difficult."
Every year DeWitt's goal is for his kids to earn a medal at the state tournament and after falling short this season, he seems to have a clear view of what it's going to take to finish the job.
"Summer wrestling makes winter champions," DeWitt said. "Anymore, as competitive as it is in Kansas, you have to put in some off-season wrestling and it wasn't always like that."
DeWitt said that he doesn't have any kids that devote themselves to wrestling year round, but he's happy to share them with all of the other coaches as long as they either find some time on the mat in the summer or come back stronger than they were before.
The extra effort from his wrestlers during the summer months, DeWitt said, will pay off when it comes down to do-or-die time in their matches.
"Once you get to the state tournament, you've just got to have a little bit extra and the more you sacrifice in the off-season, the more it pays dividends in-season," DeWitt said.
Some wrestlers are already turning out for voluntary Sunday practices run by parents. That's the kind of initiative that DeWitt is excited to see because in the off-season, he said, he won't try and force them into anything.
Eudora will lose seven seniors off this year's team, including all four 2008 state qualifiers, but it brings back a strong junior class and a plethora of underclassmen.
DeWitt pointed to juniors Ethan Becker, Max Campbell and Jackson Wiley as leaders of next year's team and predicts a similar pattern for 2009 as in 2008.
"Initially we're going to struggle a little bit," DeWitt said, "but similar to this team, as the season goes on we're going to hit our stride."
The team banquet for the Cardinals will take place after spring break.