Overcoming adversity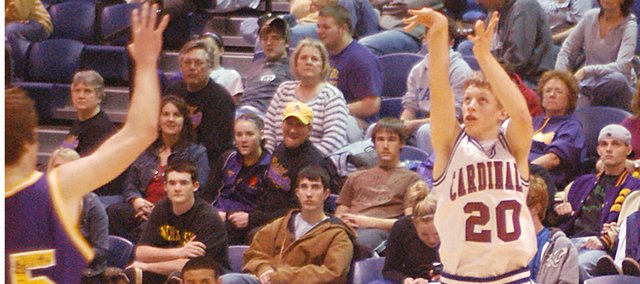 It's not easy to replace the bulk of a team, no matter what sport. But that was the task at hand for Eudora men's basketball coach Kyle Deterding at the beginning of the 2007-08 season.
Despite losing several key contributors from last season, Deterding was pleased with his team's ability to work together and finish the year strong.
"It was a good year," Deterding said. "We had to replace about our top eight from last year, and we had quite a few kids step up this year."
The Cardinals finished 10-11 and lost in the first round of sub-state. Still, Deterding and his staff were forced to play a lot of younger players and were surprised by how well they ended up playing.
"We had quite a few inexperienced and young players who were really pleasant surprises for us," Deterding said. "We always have a team goal to be the best team that we can be by the end of the year and the kids did a great job striving for that goal."
Three of those younger players who stepped into bigger roles were sophomore guards Justin Ballock, Evan Cleveland and Brian Katzfey. Next year, they'll be looked to as leaders of the team, along with juniors Cody Carlson and Kyle Swanson
A few players that Deterding thought he was going to have or this past season either decided not to play or were dismissed from the team for disciplinary reasons. That can have a negative effect on a team trying to continue, but Deterding said his team did a good job playing with blinders on to its outside problems.
"This group of young men didn't get distracted by things they couldn't control," Deterding said. "There were several things that occurred that could have been distractions, but these guys came to practice every day, worked hard and got better and better."
Deterding also said that he wasn't disappointed in anything from the season because he was proud of the attitude and effort of the group he had playing for him.
The lack of experienced players on this year's team may have hurt Eudora's record, but the fact that some younger kids were able to get more playing time than usual could mean better things next season, Deterding said.