Girls finish at 19-4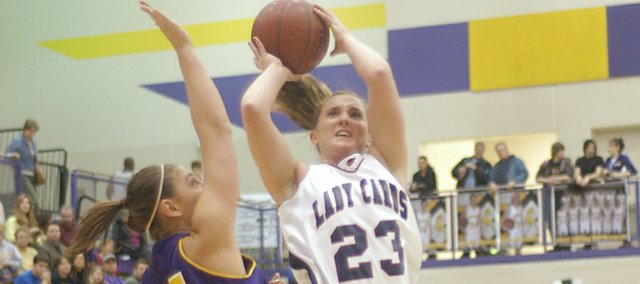 By all accounts, Eudora girls basketball coach Ryan Luke assessed his team's performance as a positive step to the overall success of the program.
Finishing 19-4, Eudora came within one victory of advancing to the state tournament, but fell to Basehor-Linwood, 62-44. It was the second year in a row Eudora lost in the championship of the sub-state tournament.
"We're a little disappointed by not making it to the state tournament," Luke said. "But we played a pretty good team and we're pretty excited about how we ended up. This year was a really big stepping stone to where we want to be."
Out of his three years as head coach at Eudora, Luke saw this year's team as the best he's had.
Eudora finished tied atop the league for best record, and had several players earn all-league honors.
Emily Ballock received first team All-Frontier League as well, winning the Most Valuable Player of the league.
"She just kind of really ran our team," Luke said. "Her overall leadership and her ability to play good defense, I think that's what got her the MVP honors. She's just a great hustler."
She was the number one vote-getter in postseason balloting. Ballock averaged 11 points per game, four steals and two-and-a-half assists per game. She played her best ball of the season when it mattered most, averaging 13 points in the last 12 games of the year.
Haley Epperson received second team honors and was seventh overall in voting. Epperson averaged 11 points on the year and over four rebounds per game.
Nikki Snider was honorable mention and was eleventh overall in votes. She averaged a double-double on the year, with 11 points and 10 rebounds per game.
All three players also received honorable mention on the Lawrence Journal-World's All-Area team.
"Out of those three, it's really hard to pick one that's better," Luke said.
The highlight of the season, at least for the coach, was seeing his team improve all season long, as well as ending up with a share of the league championship. After tough losses to Tonganoxie and Louisburg, the team rebounded, kept their poise and beat Metro Academy, 52-39 and Gardner Edgerton, 44-33.
Ballock and Snider were the two senior starters. The Cardinals also lose Elaina Kouri, Amanda Schneider and Natalie Gloshen to graduation.
"They had great attitudes, hard workers, overall just good people," Luke said when asked how he'd remember the senior class. "I think they are going to be very successful people in their lives. They were great role models for the younger kids and that's going to help us in our future, so I really appreciate that with them."
Eudora returns three starters, Epperson, juniors Bailey Scott and Rachel Pyle.
"Kendal Abel is almost like another returning starter," Luke said. "And Evan Folks and Mariah Webb, really we've got a pretty good core group back. We're not very big next year but we're still going to be able to press and get after people."