Athletic trainers help with health and more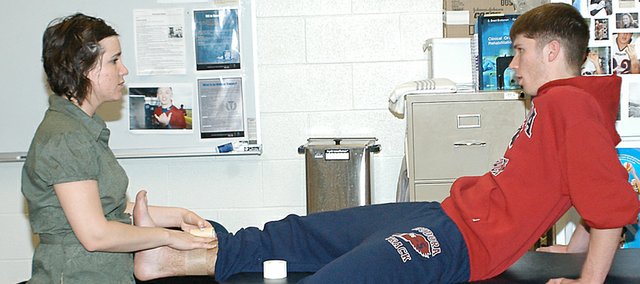 Imagine a place that's part confessional, part mother's den and a refuge to all those who enter.
Now picture that this place is a high school training room the Eudora High School training room, to be specific.
A trainer's table is traditionally the last place student-athletes would like to find themselves, but Eudora trainers Jessica Gracia and Eric Magette have worked hard to remove any fear from visiting a trainer. That's something they can do even better as a duo.
"I would venture to guess that we're the only athletic trainer combo in the state at a high school, especially the 4A or 5A level," Gracia said.
Cardinal Athletic Director Dave Durkin said the school was lucky to have two knowledgeable and certified trainers.
It wasn't that long ago that schools across the state were without any certified trainers, leaving the responsibilities up to the coach.
"Before if you were coaching and a kid gets hurt in a game, the coach is out there trying to take care of it," Durkin said. "Now, they have someone that's qualified and certified to take care of them. It's better for the kids and it's better for the coaches."
It's also better for the parents, who now know that their child's safety is in the hands of trained professionals. March is the National Athletic Trainers' Association's National Athletic Trainers month and this year's theme is, "Who's taking care of your kids?" Eudora is doing its part to answer that question in the most positive way possible.
Maggette came to Eudora as a Biology teacher three years ago but he's also a certified athletic trainer. Durkin worked it out so that he could be a part time trainer with Gracia, who's full time and provided to Eudora by the Kansas Center for Athletic Medicine. The Kansas Center subsidizes athletic trainers for several high schools in the Lawrence area.
Gracia has been at Eudora four out of the last five years, leaving in 2003 to take the position of assistant athletic trainer at the University of St. Mary's. However, the commute from Lawrence was more than she cared to do and the relationships that were established in just one year at Eudora pulled her back in 2004.
"I feel like the coaches really trust the decisions that I make," Gracia said. "I think the coaches at Eudora are great to work with and that's one of the reasons I felt compelled to come back."
Gracia was always interested in physical therapy, as her mother worked at a nursing home, but in her sophomore year of high school her brother was playing football at Fort Hays St. and she realized she could combine her love of physical therapy with her love of sports. Ever since then she's been an athletic trainer and wouldn't have it any other way.
"My favorite part of being an athletic trainer is being a part of the team, seeing the athletes compete and be successful," Gracia said.
Creating a friendly environment is crucial in getting student-athletes to take advantage of their training facilities, and that's something Gracia and Maggette excel at.
"I think I take on kind of a mother role with some of the kids," Gracia said. "You have high expectations of them, but you can't make it a really stressful atmosphere because the kids, especially ones coming back from major injuries, won't respond to that.
"You want it to be a light and fun atmosphere where you're accomplishing your work."
Because of a confidentiality agreement, Gracia and Maggette can't repeat what the students tell them, which makes the training room a safe place to open up.
Gracia and Maggette get even more help from physical therapy students from Kansas University who work at the high school to gain experience. Right now they have two students and in the fall they'll have four. Having extra assistants only means more benefits for the student-athletes who need help.
"We want the kids to be able walk in that door and know that they're being looked after and they matter," Durkin said.
More like this story