Tracksters open up with impressive showing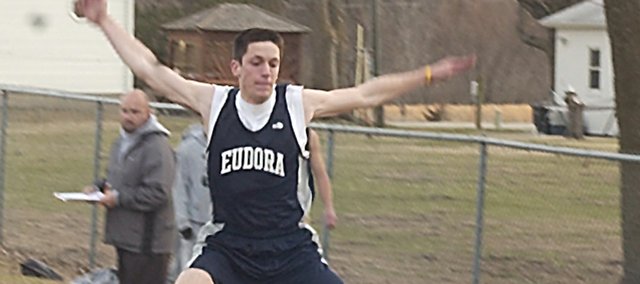 The weather may not be quite ready for track and field season, but from the looks of their first meet the Cardinals are warming up to it just fine.
Both the boys and girls teams opened their 2008 season Tuesday night at the Snowball Relays in Wellsville and performed well. The girls took the meet crown with 112 points, edging out Paola by seven points and Santa Fe Trail by 11, while the boys placed fifth out of eight teams, 3.5 points out of fourth.
"We looked pretty good out there, a lot of the kids were performing at a high level," said coach Phil Katzenmeier.
That's not to say that everything went as well as Katzenmeier would have liked. In fact, he estimated that overall the teams were a little behind where they should have been, but at the first meet that was no reason for concern.
"We're fighting the weather, we just had spring break and it's been tough to get everybody out for practice at the same time," Katzenmeier said. "We've still got a long, long way to go."
The Cardinals, especially the boys, came into this season with a lot of question marks because of their youth. None of the four athletes who ran and placed fourth in the 4x100 meter relay had ever run that race before. Those age questions weren't completely answered Tuesday night, but Katzenmeier did enjoy seeing everyone out competing so he could size up his teams. One thing he noticed was a consistently solid evening from his top athletes from last year.
"I think that in the case of people who did well last year, we picked up right where we left off," Katzenmeier said. "We're still trying to integrate the new people, though, but those top ones are right where they should be."
On the girl's side, senior Emily Ballock the three-time defending State champion in the 300-meter hurdles looked to be in mid-season form, blowing away the competition in that event for a meet record time of 45.5 seconds. Ballock also won the high hurdles in 16.2 seconds and placed second in the 200-meter dash with a time of 26.9 seconds.
Younger brother Justin Ballock was also impressive. The sophomore placed second in both the high hurdles and 300-meter hurdles, clocking in at 16.0 seconds and 41.4 seconds, respectively.
Other top performers on the boy's side included senior Ben Katzenmeier, who placed second in the javelin with a throw of 154-feet 6 inches, and senior Jordan Katzfey. Katzfey posted a triple jump distance of 40-4 to win the event, which caught his coach's eye and caught him completely off guard.
"It really shocked me," Katzfey said. "I never do that well early in the year, especially not at the first meet. This definitely gives me a lot of confidence, having a mark that high to aim at already."
The Eudora girls set two other meet records Tuesday night. Junior Allison Hoover flew over her competitors in the pole vault with a height of 9-6 while the 400-meter relay team, comprised of juniors Alisha Wingebach, Kendal Abel, Tianna Dunnaway and Rachel Pyle, paced the field with a time of 51.3 seconds. This is the same foursome that placed second in the 400 at last year's state meet.
The 800 relay team was also stellar, winning with a time of 1 minute, 51.9 seconds. That team included Shea Lounsbury, Abel, Dunnaway and Pyle.
Other notable events for the girls included second place finishes in the 3,200 relay, 1,600 relay and Liz Hoese's performance in the 800 relay. The boy's 6,400 relay team also placed second with a time of 21 minutes 9.8 seconds.
There were plenty of uncertainties about Eudora both before and after the meet, but one thing Katzenmeier was sure of is that they faced top athletes on Tuesday.
"There was a lot of quality competition, some state place-winners and so forth, and that made for some real quality events," Katzenmeier said.
Eudora is on the road again this week, with the Baldwin Invitational scheduled to begin at 3:30 p.m. Friday in Baldwin.
More like this story