Cards hope sweep provides momentum for rest of season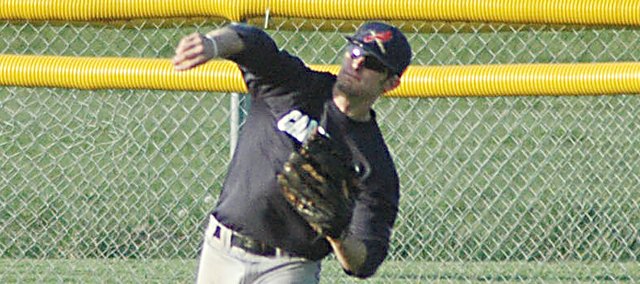 When coach Shaun Edmondson's squad scores runs, it does it in bunches. That's why it was no big surprise to see Eudora's offense rattle off a pair of victories in blowout style Tuesday night at Baldwin.
The Cardinals scored five runs in the first inning of the opening game cruising to an 11-1 victory in six innings and then avoided a letdown by pounding the Bulldogs 10-2 in the nightcap.
"Our approach at the dish is getting a lot better," Edmondson said. "We're putting balls in play, putting a little pressure on defenses, and when we do that we score a lot of runs. That was the case tonight."
Part of that improved approach that Edmondson noticed was his player's discipline and patience at the plate. They weren't depending solely on knocking the ball around the park.
In the fifth inning, Eudora loaded the bases by staying patient at the plate and drawing three straight walks. The Cards brought two of those runs in to score with a solid hit into empty space.
"That's just baseball sometimes," Edmondson said. "The more times you hit it where they're not, the more likely you are to score a lot of runs."
Edmondson also noticed that his team avoided striking out very often, something they've worked hard on in practice.
"We're still making a lot of strides and we're getting a lot better, which is nice," Edmondson said.
Defensively, the entire team is still supremely confident that they'll catch every fly ball and it did just that on Tuesday.
Eudora's pitchers also were very strong against Baldwin, allowing just three total runs in both games combined.
Still, the lasting impression from the Cardinals second double-header sweep of the season was their resounding offense.
"I think we came out with a goal or a purpose to come out and just jump on them quick," senior Matthew Abel said.
Abel scored two runs in the first game, as did fellow seniors Morgan Abel and Chad Krutz.
In game two, junior Kyle Swanson provided the highlight with a two-run homerun to left field. Later, Matthew Abel nearly added to the long ball tally when he pulled a bomb down the left field line, but it was ruled foul. Abel shook it off and knocked a two-run double to center two pitches later.
Sophomore Evan Cleveland led all Cardinals in the nightcap with four RBIs and he also scored two runs.
The two wins put Eudora's season record at 8-6, but don't bother telling that to Edmondson.
"We don't look at our record, because it doesn't really matter," Edmondson said. "We know that we're getting better and that's all that really matters. We're happy with the victory, but we know we've got more work to do because in the grand scheme of things it's just two games.
"We have much higher expectations."
"We want to hit our peak in mid-May when that state tournament comes rolling around and I think that's what's starting to happen," Matthew Abel said. "People are seeing what we need to do to get to that next level."
At 4:30 tonight Eudora travels to St. James Academy for a double-header that includes a make-up game from earlier this season.
"We'll start (Dylan) Rust on the mound in one of the games and (Craig) Harper on the mound in the other game, and just come out swinging and do what we do best," Edmondson said.
More like this story