Condemnation process begins for wall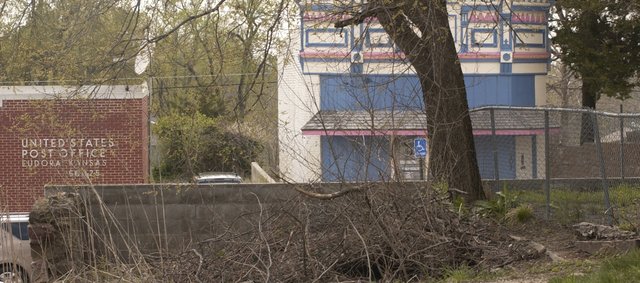 The Eudora City Council Monday approved Monday a resolution to condemn the Main Street wall.
The city must acquire a certified record of ownership and then place public notices in the newspaper for two weeks. A hearing will occur June 23 and the owners will have 30 days to appeal the decision.
After the appeals process is finished, the city will be able to make changes to the wall. The whole process should be finished between August and September.
"It's perfect timing because that's right about when we'll be wrapping up our downtown project," City Administrator Cheryl Beatty said.
Engineers two years ago were concerned that a heavy rain could cause wall to further push out collapse onto the sidewalk. It then was barricaded, deemed a dangerous building and notices of safety code and zoning violations were sent to the owners, but then it got complicated.
The 50-foot wall is owned by two different entities: Darrel Keim, of Lawrence, and two teenagers who have the rights to it as the result of a trust.
Both parties were unavailable for comment.
Six years ago city officials decided to fix the wall, so Keim went to the board of zoning appeals and claimed it was city property. The board disagreed and he took the issue to court.
Kansas District Court Judge Stephen Six then issued a memorandum June 1 of last year upholding the board of zoning appeals' decision.
The council also heard from lobbyist Kevin Barone regarding his work during the current legislative session.
The city hired Barone, who works for Topeka-based legislative consultants Joseph & Hollander as a contract lobbyist, in December.
The main reason that the city retained his services was to lobby on its behalf at this year's state legislative session in order to affect public policy in the context of their dispute with Douglas County Rural Water District No. 4. However, Barone told council members that he would be keeping all of Eudora's interests, such as annexation issues, in mind during the session.
Barone said though no immediate change has occurred, the Legislature is working on a bill that would study for two years the practices of public wholesale water supply districts.
If passed, the bill would put a two-year moratorium on any actions by those water districts.
"I think we made real headway in getting our subject as part of a study," Beatty said. "He's really helped in getting our foot in the door."
Beatty also said other cities have been communicating with her regarding water issues.
"You'd be surprised at how many cities have e-mailed me to say, 'This is going to affect us too. Are you making any headway,'" she said. "So, we're finding allies as a result of Kevin's work."
Eudora pays Barone $1,000 per month for lobby services and no more than $350 per month for his expenses.
These expenses could include lobby registration fees, outside copying expenses over $50, travel expenses and any other items approved in advance by the city. Expenses can exceed $350, but only if the city gives approval.
Barone's contract with Eudora will run until June 30, 2008.
More like this story