EHS

National Honor Society inducts 23 new members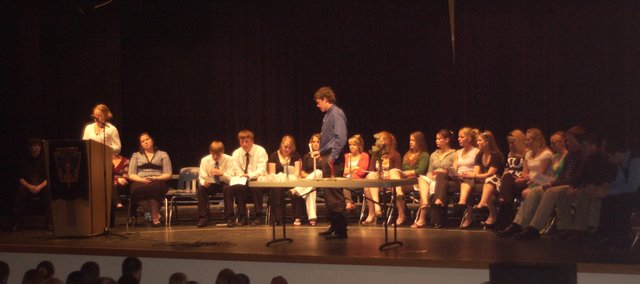 The Eudora High School National Honor Society Chapter welcomed 23 new members at its annual induction ceremony Monday evening.
In order to be inducted, students must have a cumulative grade point average of 3.3 through three semesters of high school. They also need to have attended EHS for at least one semester and must be at least a sophomore.
Students apply to be part of the organization and are chosen by a faculty council of four teachers appointed by EHS principal Dale Sample.
While grades certainly are an important piece to becoming a member, students also are judged on leadership, service and character.
"Citizenship is a big thing," NHS Chapter Adviser and Eudora High School math teacher Scott Keltner said. "I expect them to be leaders in the classroom, on the field, on the court and pretty much in every aspect.
"We also expect them to be outgoing, but not overbearing - there's a difference between leadership and just annoying people."
Two-year member Emily Ballock, a senior who will attend Wichita State University next fall, originally joined because her now graduated sister Megan was a member.
"It's an organization that's highly looked upon by teachers and other students and it's looked upon highly in the community," Ballock said. "It definitely looks good on a resume for colleges or other activities that you're trying to get involved in."
New inductee Amanda Schneider, a senior who will attend Washburn University next fall, likes the fact that NHS promotes community service.
"For youth today, so many times we get away from helping our communities and giving back and we always just want to take," Schneider said.
Some of the community service activities include having an Easter egg hunt for first grade students at Nottingham Elementary and helping out with local events, such as Eudorafest and the PTO Carnival.
Keltner, who is in his second year as adviser, said NHS will graduate about 19 members this year, but still will have about 22 members for the next school year.
New inductees this year were:
Seniors Brittne Carey, Kelsie Riser, Amanda Schneider, Jim Thoenes and Loryn Walrod.
Juniors Chase Brecheisen, Cody Carslon, Devan Crowe, Haley Epperson, Elizabeth Hoese, Maresa Hornbaker, Courtney Johnson, Bryan Kindle, Haley Sellers and Kyle Swanson.
Sophomores Lindsey Cook, Madison Dennis, Kelsee Evans, Shea Lounsbury, Abigail Mott, Alexandria Mott, Katherine Slavin, Kyle Snow.