One tune-up left after De Soto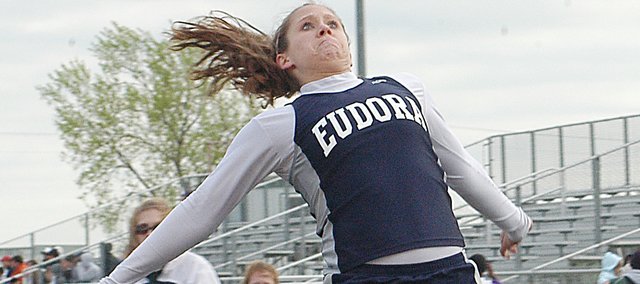 The weather continues to give less than its best effort, but that didn't stop several Eudora athletes from pushing through the blistering winds to record season best performances at Friday's De Soto Invitational.
An unconventional scoring system awarded points to every athlete who competed, making the scores much higher than at most meets. The girls scored 593 points to grab second place while the boys notched 619.5 points, which was good for third.
"If we hit a nice day on one of these meets we'll see a lot of stuff really drop," Katzenmeier said. "I think it's become a little frustrating for a lot of the kids because it's not happening yet like they want it to and the weather is the main factor."
Leading the Cardinals, as usual, was senior Emily Ballock, who won all four events in which she competed.
Ballock won the 110-meter hurdles in 16.83 seconds, the 400 dash in 59.61 seconds and posted a season best in the 300 hurdles at 44.99 seconds. Ballock also led off the first place 4-by-100 relay team, which recorded a season best time of 50.93 seconds.
The third leg on that team is junior Tianna Dunnaway, who also had a very productive evening.
On top of the relay victory, Dunnaway won the 200 in 27.91 seconds, finished second in the 100 at 13.79 and helped the 4-by-400 relay finish fourth in a season best time of 4:31.02. Still, she says the 4-by-100 is by far her favorite event and she only wishes that they had more competition throughout the year.
"I'm excited, because then we'll get to start really competing in the meets that really matter," Dunnaway said. "All of your training comes to an end and it's time to come out and run or go home."
Katzenmeier said about five of his athletes had to go home ill from Friday's meet because it was the second meet in a week that also included prom. That was a lethal combination for some, but not all, of the Cardinals runners.
One of the most surprising performances of the meet came from the boy's 4-by-800 relays.
Led off by Ivan Espinoza, the relay team finished second with a season best time of 9:06.07.
"I felt we did really well in that one," Espinoza said.
He also finished fourth in the 3200 (10:54.24) and was Eudora's top finisher in the 1600 with a time of 5:03.39.
Other top performers for the boys included sophomore Justin Ballock, who placed second in both the 110 and 300 hurdles, then finished third in the high jump with a leap of 5-feet 8-inches.
The girls were also very strong in the field events, as junior Allison Hoover won the pole vault with a season best height of 9-6 and junior Kendal Abel placed second in the javelin and long jump.
The Redbud Classic at Wellsville on Friday is Eudora's final regular season meet of they year, and it'll be quite a finale. Katzenmeier said he expects around 20 teams to compete.
"To place in this meet, you're going to have to perform really well," said Katzenmeier. "There's not going to be any easy events."