The road less traveled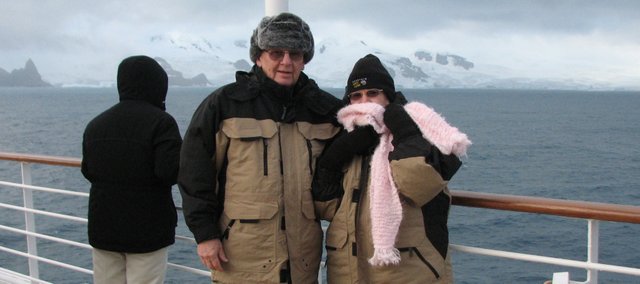 For most, a winter vacation means going someplace where plentiful sunshine provides a respite from the harsh blowing cold.
But Eudora residents Fred Bohm and Sharon Burns-Bohm traded the winter of Kansas for the summer of Antarctica - and it was pretty much an even trade
"We couldn't get anybody to go with us," Sharon said.
Fred had wanted to make the trip since he was a child and he tried to reason with friends, telling them it would be summertime at the bottom on the Earth. However, that still only meant that thigh temperatures would reach about 20 degrees.
Their trip began Feb. 9 with a short flight from Kansas City to Dallas, and then a long flight - about 10 hours - from Dallas to Buenos Aires, Argentina.
From there, they boarded the Azamara cruise line. With its cabaret shows and lectures on all things Antarctica by professors, the ship was part casino and part natural history museum.
Though Sharon thought she may have trouble traveling for 19 days, the education she received eased her mind.
"I really thought 'I'll cry, I'll get homesick, I can't take it,' but it was so interesting," she said. "There was always something to learn."
The ship traveled to the Falkland Islands, where an ice pilot came aboard to take them through the treacherous Drake Passage.
Fred explained the Drake Passage sits between South America and Antarctica and is the location where the Pacific and Atlantic Oceans meet. The differences in currents cause especially choppy waters.
"We got to though what they call 'Iceberg alley' the conditions were just right - you don't always get to do that," Sharon said. "In fact, there was one couple on the boat who was trying for the second time because they didn't get to do it the last time they went."
Their first glimpse of Antarctica was a mile long iceberg that was about 200 feet high, and it was an especially exciting experience.
"The only way I can describe that is like a room of 200 men awaiting the birth of their first child," Sharon said. "We heard a voice over the intercom that said, 'We are approaching Antarctica,' and it was like, how fast can you get your clothes on, get all your winter gear on, get the parkas on and get out there? It was just maddening."
The ice pilot also guided the boat through part of the base of an active volcano
Learning so much about their surroundings made them appreciate the magnificence, but also the danger.
"Knowing that at anytime something really could happen was kind of living on the edge," Sharon said. "You can't believe it. You just can't believe it, but we felt really confident about everything because the captains and the ice pilot would explain everything."
After traveling a total of 5,000 nautical miles and about 15,000 miles by plane, the Bohms returned home Feb. 29.
There still were traces of their experience, though. Just as it took some time for them to get their sea legs, it took a while to lose them
"Even a week afterwards, I'd be brushing my teeth and I could feel myself swaying," Sharon said. "It was weird."
Fred said being aboard a ship in the Antarctic was like being in another world.
"You can look out in any direction and know in your mind that in most cases, no human foot has ever stepped out there. It's mystical."