Sweep pits Cardinals against Bishop Ward in regional tourney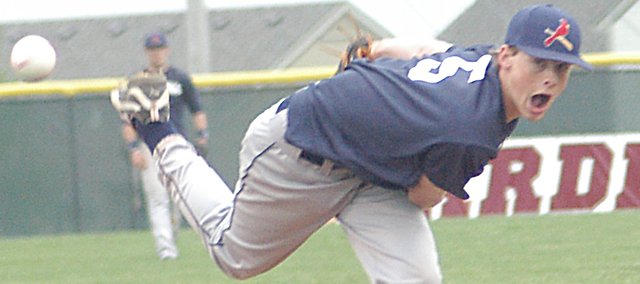 Some days, things just don't fall in place.
The Eudora Cardinals baseball team had one such day Tuesday, when they were swept by De Soto, 11-1 and 8-4, and dropped to 9-9.
"We show flashes of being a really good team - 9-9 is the mark of an average team," coach Shaun Edmondson said. "But we're above average, and I think we'll turn it around."
The play that set the tone for the first game, and maybe showed that today would not be the day things fell into place for Eudora, occurred in the third inning.
With the score tied, 1-1, Matthew Abel was hit by a pitch, stole second and Chad Krutz walked to set the table in the bottom of the third. Next, Brian White hit a liner up the middle that was right at the De Soto shortstop, who beat Abel back to second and threw to first before Krutz could recover for a triple play.
"That's baseball," Edmondson said. "We did everything right. That's the nature of the game."
Any momentum that Eudora had with runners on and none out vanished as they went back to the field.
Eudora gave up an unearned run in the fourth after a Wildcat hitter reached on an error, and later scored on a wild pitch. However, Rust seemed in command of the De Soto hitters until he was touched up for three runs after giving up two walks, a double and a single.
Drew Noble pitched the sixth, and gave up six runs, four of which were scored with two outs.
At the plate, Eudora's bats were silent. Matthew Abel had the only hit - a bunt single in the first - the Cardinals could muster. Morgan Abel had Eudora's one run, and the game ended after six innings.
The second game went better, only with a similar outcome
Matthew Abel set the tone for Eudora, going three for four with two runs and six stolen bases.
"Matthew Abel is as good as it gets in high school. He's an absolute stud," Edmondson said. "He's a leader by far."
Krutz went two for four with one RBI, while Brian Dudley collected two hits in three at bats and plated two RBIs.
Craig Harper pitched for Eudora in game two, and it was a five-run third inning that proved too much to overcome for Eudora.
"I felt pretty good, throwing a lot of strikes," Harper said. "They were just hitting me pretty good."
Harper surrendered eight earned runs in six innings pitched. Michael Bricker worked a one-two-three seventh.
Next up for Eudora was Wednesday's home game against Bonner Springs, but results were not available at press time.
Before the game Tuesday, Eudora was a fifth seed and De Soto was a sixth seed for regionals, but the losses mean the two teams will likely flip-flop and the Cardinals will probably face Bishop Ward in the first round, the defending state champion and team that ended Eudora's season one
year ago.