Wrapping things up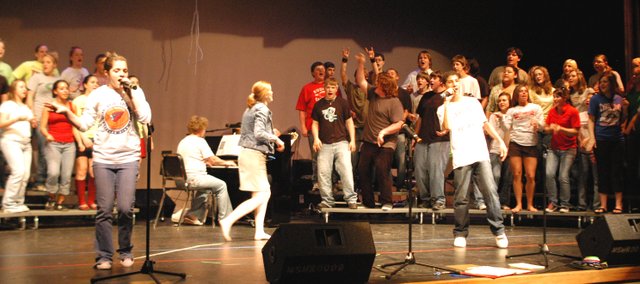 The voices emanating from the classroom of Eudora High School Director of Choirs Angela Yarnell are particularly festive, all the while making particularly sure to properly enunciate the word "banana" to affect the Caribbean accent within the Harry Belafonte classic "Day-O (Banana Boat Song)."
The choir will display its ability to maintain a balance between having fun and being mindful of technique at the sixth annual platinum concert at the Middle School auditorium. The middle school choir will perform at 7:30 p.m. Thursday and the high school choir will perform at 7:30 p.m. Friday and Saturday.
The two choirs in previous years were not split up, but with 200 singers total, it became necessary to do so.
The theme of this year's performance is "Platinum in Paradise."
"It's almost summer so there will be a kind of Caribbean, relaxed feel to the songs with some Beach Boys and other stuff like that," Yarnell said. "It's a fun way to end the year for us."
Practice for the concert began in January, with the choirs meeting before and after school as well as in small groups on weekends. Though the choir still has a couple of performances left after Platinum, it is essentially its last big performance.
"We can kind of take a breath after the show is over," Yarnell said. "But even during show week it will just be kind of a relief because it will be here and we'll be excited to be performing."
Yarnell said platinum has become a way for her reward the students for their work in choir, which has excelled at various events.
Its most recent triumph was at the State Solo & Ensemble Festival, where members received a superior rating for their performance of "Shiru" and "Dream Keeper" and an excellent rating for their performance of "Out in the Fields." Kim Scherman, Morgan Carey and Josh Blaisdell all received excellent ratings for their vocal solos, as well.
"This year is just continuing the tradition of excellence," Yarnell said. "It's kind of par for the course around here because we have high expectations of the students and they always rise to those expectations."
Those high expectations start with the fact that the choir performs songs that are typically performed by 6A school, though Eudora is a 4A school.
"We don't have to sing music that hard, but we feel like that is what is exciting for us," Yarnell said. "As long as everyone is feeling that it is attainable but they have to work hard to get it, then we feel like we're in the right place with our music."
Yarnell attributed some of the choir's success this year to singing songs that were more vibrant than the pieces that typically are sung at festivals. She said she spent about three months narrowing down about 1,000 pieces of music to about 40 pieces for the choirs to sing.
She chooses pieces that will be new to students as a result of new languages, historical periods, composers or even just the general feel of the piece.
"If you go into my offices at anytime there are piles of music everywhere. So, I take it very seriously," Yarnell said. "I try to find things that will show off our strengths but also push us in certain areas."
Tickets for Platinum are $5 for adults, $3 for students and free for children 3-years-old and younger and can be purchased at the EMS and EHS main offices as well as C&S Market.