EHS

set to graduate 96 seniors Saturday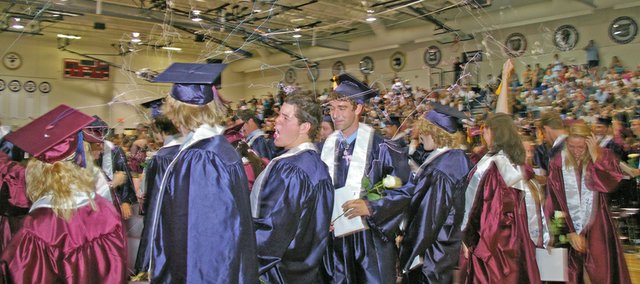 Eudora High School graduation ceremonies for the Eudora class of 2008 will be Saturday from 1 to 2:30 p.m. in the EHS gym.
Pending final grade results, diplomas will be given to about 96 and EHS English teacher Matt Bova has been chosen by the students to speak at the ceremony.
The valedictorian has not been finalized, but Paul Walrod said there is good chance there will be between five to seven students who will be co-valedictorians. In that even, the students have elected to write a speech together rather than each taking a few minutes to present their own speech.
Board of Education members Jim Martin and Joe Pyle will hand out diplomas and a reception will follow in the high school commons.
Parking on the grass anywhere on school grounds will not be allowed. Students and their families are asked to park in EHS or EMS parking lots. A shuttle bus to and from the EMS lot will be provided beginning at noon.