EHS

student council president to stay involved in college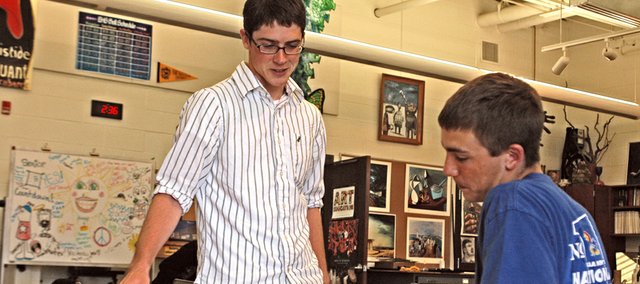 Connor Hartpence has excelled at most things he's done during his academic career in the Eudora schools.
He is in the top 10 percent of his class with a 4.6 grade point average, a Kansas ACT Scholar, won various scholarships and is president of the student council. So, it is puzzling when he says one of the things he'll miss most about high school is one of the few things in which he participated that wasn't a success.
"I really liked soccer even though we never had a good season," he said.
The soccer team finished this year with a 3-15 record, which seems to stick in his head as unfinished business.
Student council vice president Logan Hartpence, who has the same GPA and is Connor's twin brother, put his brother's feelings in perspective.
"We'll be able to handle more adversity now because we had to lose almost every single game and know what it feels like to go into something knowing that you probably don't have that great a chance to win but you still go out and try your best," Logan said.
Connor, who will attend Kansas State University and received the university's Putnam Scholarship, said he's always just made an effort to get A's.
Connor and Logan's mom, Vicki Johnson, said that they were always asked to do their best, but that there's also some one-upmanship in the mix.
"We've always just encouraged them to do their best, and if a 'B' was the best work they could do then that was OK," she said. "A lot of it is that they have a natural competition between them that began at a very early age. It's not always a good thing, but it's been a pretty healthy competition"
Saturday's graduation ceremony will be especially tough for Johnson, as she will reflect on the joy both of her sons brought to her home and how in three short months they both will leave.
"I haven't let myself think about it too much because I'm going to miss them terribly," she said. "They're just fun kids to be around."
Connor also participated in several other extracurricular activities, chief among them being the culling of footage with Logan throughout the year for the video yearbook.
But his interest in filming doesn't stop with the yearbook, as he and Logan with the help of some friends also have been making videos and posting them on YouTube.
The videos showcase the silly and serious sides of the twins, as they have filmed everything from scaring people during a snowy night on Massachusetts Street in Lawrence to Connor covering songs on an acoustic guitar.
With so many activities, Connor said it doesn't allow him time to relax - for better or for worse.
"It gets pretty stressful at times, but I think it's better that way because you're never slacking, you always have something to do," he said.
Connor plans on continuing his habitually busy lifestyle in college, as he already has joined a band in Manhattan and hopes to have a videography business wherein he and Logan would film events such as weddings and parties
"I already have a couple of contacts in Manhattan and I really want to meet new people and get involved," he said. "It's definitely going to be different, and it's going to be hard not seeing the people that I see every day. We have that group of guys that we make videos with and now it's just going to be Logan and I at K-State."
He plans on majoring in microbiology and then attending medical school to become a surgeon, but he is also aware that things could change and said he is open to what he might discover.
His biggest worry is the fact that he has grown up rooting for KU and knows his love for the Jayhawks won't fly when he is in Wildcat country.
"I'm going to try to not show that I like KU," he said. "My older brother went there and he grew up loving KU and now he hates them, so I don't know what will happen."