LMH

gets planning commission approval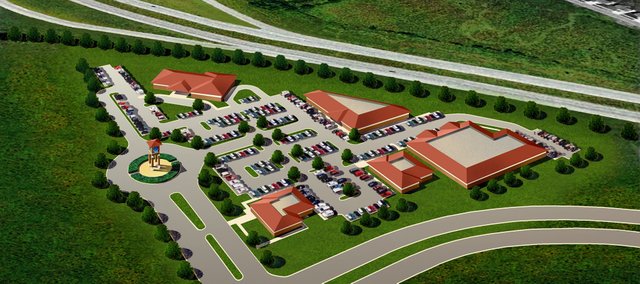 After a public hearing Wednesday, Eudora Planning Commissioners conditionally recommended approval of a preliminary plat for Lawrence Memorial Hospital's primary care facility.
The facility is to be built in the area of Church Street and White Dog Road south of Kansas Highway 10.
The most notable condition is that LMH provide gravel surfacing with dust retardant four times a year on the unpaved White Dog Road, which would sit directly in front of the facility.
The road eventually will be paved when two other developments in the area - an assisted living facility and a residential subdivision - are constructed so all parties can be charged according to the amount of frontage on the road taken up by their respective properties.
LMH attorney Andy Ramirez told the commission he was aware Eudora was in the middle of litigation with Douglas County Rural Water District No. 4 over which entity should provide water service where the 10,000-square-foot clinic would sit but LMH wanted Eudora to provide them with water.
Because the case is pending, Ramirez said LMH understood approval of the plat did not signify a commitment by Eudora to provide water.
"We don't want the water issue to interfere with the land use and getting this facility built," Ramirez told the commission.
Ramirez said LMH preferred water service from Eudora because hospital officials were concerned whether RWD No. 4 could provide the clinic with enough water for fire suppression.
Ramirez said LMH would ask RWD No. 4 to remove the area from its service territory.
However, the main issue holding up the facility that was set to open in 2009 still is that LMH is in the process of recruiting doctors for the facility. LMH President and CEO Gene Meyer said he hoped construction would start in late 2008 or early 2009.
No Eudora residents spoke for or against approval of the plat.
The commission also conditionally approved the final plat and site plans for Eudora USD 491's new
elementary school.
The main conditions specified that the school district would need to increase the size of waterlines if they further developed the property, which is in the area of 10th and Peach streets; and the addition of an adequate deceleration lane for the west entrance of the parking lot, which also would adjust the location of the bus entry lane.
The plans first were up for approval with the commission in March, but approval was tabled because they wanted to see more construction and storm water plans.
The $27 million facility, which Superintendent Marty Kobza said was the flagship of the $45 million bond issues that passed Nov. 6, will house grades first through fifth and will be ready for the beginning of the 2009-10 school year.