The luck of the draw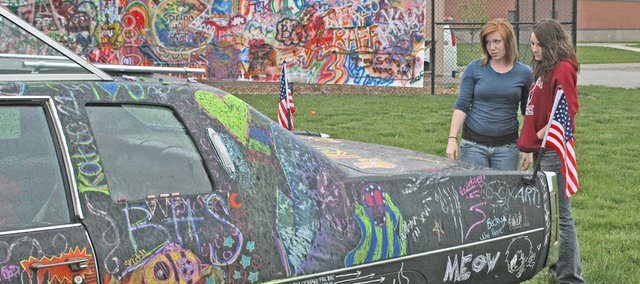 Over the 15 year period that the Frontier league has held the league art festival, Eudora High school has never finished lower than third place, and that trend continued May 7 as EHS art students won the contest portion of the festival.
"It kind of came together late," Eudora High School art teacher Gary Hinman said. "Some of the pieces that were finished at the ends I was kind of worried wouldn't get done in time but they kind of picked it up and some of the award winners were finished just a couple of weeks ago."
EHS artist won four out of five best in show awards, eight excellence awards and eight merit awards en route to and overall score of 201.
Hinman said it was the first time EHS won four best in shows.
De Soto came in a distant second place at 104 and Spring Hill and Gardner tied for 3rd with 85 points each.
Hinman chose all of the pieces with the help of a student teacher.
EHS also won the sidewalk chalk contest, wherein participants draw on the sidewalk with pastels. However, artists aren't made aware of what the theme of what they'll draw until the day of the contest.
This year's theme was "Your mascot as a superhero."
Hinman praised Stef Wingebach's cardinal design, which she came up with on the spot.
"Stefanie Wingebach virtually sat down on her own and drew it freehand and that's really hard to do," he said. "It was amazing."
All representatives from all of the schools present also drew on a graffiti wall and a car donated by Pat Slimmer, owner of Slimmer's Automotive Service on East 23rd in Lawrence.
Best of show winners were Morgan Abel, Marion Mersmann, Baylee Schmeck and Chase Brecheisen.
Excellence award winners were: Stef Wingebach, Marian Mersmann, Baylee Schmeck, Sam Randel, Becky Dreifuss, Krista Beedle, Kristin Becker and Alex Tacke.
Merit awards winners were Stef Wingebach (2) Marian Mersmann, Baylee Schmeck, Sam Randel, Becky Dreifuss, Chase Brecheisen and Kelsee Evans.