Community Learning Center graduates 14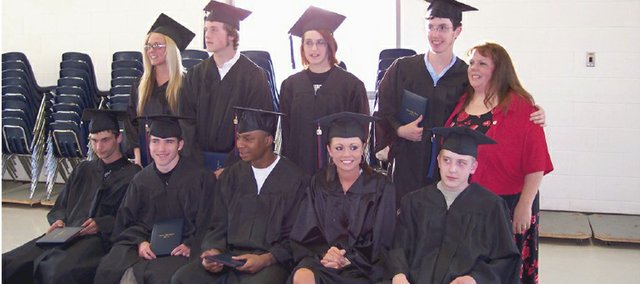 The Eudora Community Learning Center on Thursday had its graduation ceremony for what school officials said was one of their largest classes in some time.
Students who attend the learning center have completely withdrawn from traditional classes because they are unable to attend for one reason or another. However, each of them still wishes to graduate high school.
They take self-paced classes on computers in what was once Eudora Middle School.
Though the method of education at the Eudora Community Learning Center might not be altogether traditional, the sense of accomplishment felt by each of the 14 students who graduated Thursday with a high school diploma mirrored that of any other student.
"It's a big relief, especially since I had to end going to a regular high school because of having a child," Shleby Ledom said. "That was a little stressful because I had to grow up fast and work full-time."
Ledom felt she now could move on to a new stage in her life.
She plans on attending Johnson County Community College and then transfer to a four-year institution where she wants to become a veterinarian.
Her classmate Ashley Aguilar was happy to be finished, but said her life soon would change.
"I'm really nervous because with graduating high school you've got all of those responsibilities out there now," she said.
Aguilar wants to become a nurse and enter the military.
Aguilar and Ledom both said learning center coordinator Angie Miller was to be commended for her support throughout the process.
Ledom said Miller sometimes would help take care of her son Trenton.
"She's been amazing for me, especially with Trenton," Ledom said. "She would play with him and watch him while I worked.
For Miller, the ceremony was more poignant than most past graduations.
"It makes me sad, with this class especially, and I'll miss them all for different reasons," she said. "I feel really close to all of them and feel that I provided that positive input that they all needed."
Miller said enrollment in the program next year would be between 40 and 50 students with another graduating class of 10 to 15 students expected.
Students in the Eudora Community Learning Center class of 2008 were: Ashley Aguilar, Chase Austin, Ryan Chaney, Ben Davis, Alec Dockery, Jordon Erisman, Devin Foulk, Kevin Frazier, Bo Hopson, Keeley Kindred-Hawkins, Shelby Ledom, Craig Rentfro, Dennis Walters, Jennifer Wecker.