Eudora baseball runs into Ward once again, but above .500 ball gives coach optimism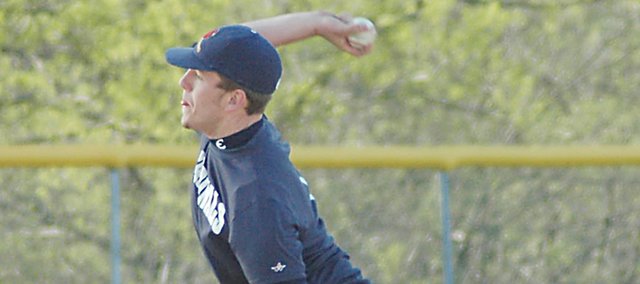 Almost every team in any sport gets better throughout the season. That's simply the result of spending so much time on the field together.
How much a team improves during the year is largely dependent on its coach, and in that case one could call Shaun Edmondson's first year as Eudora's skipper a success.
The Cardinals struggled in their first three games, then found an offensive explosion before settling in for a decent 11-10 season.
"From when we started in February to when we finished in May, we were a completely different team," Edmondson said. "The strides that the kids made were tremendous and it's unfortunate that the season has to come to an end so quickly.
"One thing that I wish the seniors would have gotten to experience was to win a couple of postseason games. Everything that we worked on throughout the year was to put ourselves into position to win in the postseason."
At the beginning of the season, fundamental problems such as fielding fly balls proved difficult, but with time those were completely forgotten.
The team's performance against eventual regional champ Bishop Ward in the first round of the 2008 tournament illustrated Eudora's improvement.
In 2007, Bishop Ward unceremoniously bounced Eudora from regionals by a score of 10-0. This time around the two teams squared off again to a much different result.
Facing a 4-0 deficit with two outs in the bottom of the seventh, Eudora appeared to be finished.
"Anybody watching that game thought it was over, there was no way we were coming back," Edmondson said.
However, the Cardinals refused to give up and put a few hits together to pull within 4-3. They eventually fell by the same score, but that never-give-up attitude was something the Cards displayed several times during the year.
"To battle one of the best teams in the state the way we did shows the progress that we made," Edmondson said.
In a doubleheader at Baldwin, Eudora overcame difficult situations in the late innings to win both games by large margins. But the game that sticks out the most to Edmondson was a 20-9 victory at Spring Hill early in the year. It was one of Spring Hill's two losses in the regular season. That win was the cap on the Cards first of two four-game winning streaks.
Trailing 9-3 with the bases loaded and no outs, senior pitcher Dylan Rust came in and recorded a strikeout then induced a double play. After that the Cardinal offense scored 17 unanswered runs in three innings.
"The Baldwin and Bishop Ward games showed the character of the team. They sort of exemplified what we were made of," Edmondson said. "Then the Spring Hill game was a sign of what we were capable of."
Eudora graduates five players from this year's team. Edmondson said they may be the best five players on the team.
"That's a special class. Interview me in 50 years, and I'll still be talking about them," Edmondson said. "They were tremendous leaders on and off the field, and they made life a lot easier for the entire coaching staff because we never had to worry about anything besides baseball.
"They were as good of kids as they were baseball players, and that's saying a lot."
Seniors Matthew Abel, Morgan Abel, Chad Krutz, Dylan Rust and Brian White accounted for almost 50 percent of the runs scored and nearly 60 percent of the RBIs. White, Rust and Krutz were also excellent pitchers who will be difficult to replace.
Still, a coach's job is to get his team ready for the next season, and Edmondson thinks his underclassmen benefited a lot from the Cardinals close loss to Bishop Ward.
"A lot of it is that the kids see what it takes now," Edmondson said. "You can say all you want about smart base running or your two-strike approach, but until the kids see it, it doesn't really sink in and they saw it with Bishop Ward. I think it opened a lot of eyes to say, 'Oh, this is what it takes to win those games.' That will make it easier to focus earlier in the year."