Fritzel competes against Jayhawks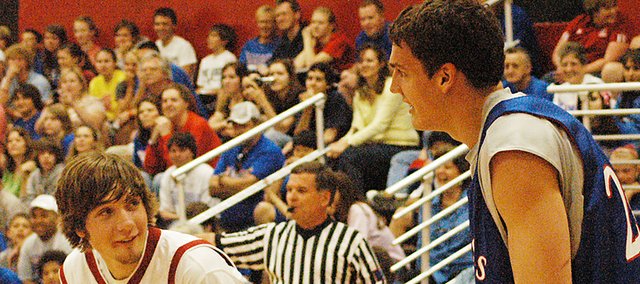 He accumulated two points, two steals and two rebounds. That wasn't the most impressive stat-line 2008 Eudora High graduate DJ Fritzel ever produced on the basketball court, but it might have been the most memorable.
That's because these stats were produced against five players who claimed a college national championship
this year.
When Lawrence High football coach and event organizer Dirk Wedd called Eudora basketball coach Kyle Deterding about a month ago inquiring about players possibly playing in the Jayhawk seniors' final barnstorming outing at Lawrence High School, Deterding asked Fritzel if he was interested. Fritzel jumped at the chance.
"I was excited," Fritzel said. "It was pretty sweet. It was amazing to get to play against the champions."
Fritzel and nine other area basketball players played two 20 minute, running-clock halves against the likes of Darnell Jackson, Russell Robinson, Jeremy Case, Brad Witherspoon and Sasha Kaun.
Fritzel started the game and the two groups of high schoolers, five in a group, alternated every five minutes, meaning every player got to play against he senior group of Jayhawks for 20 minutes.
Out of the gate, Fritzel, a lifelong Jayhawk fan, drew the starting assignment of guarding KU big man Sasha Kaun.
"When we first walked on the floor, it was pretty amazing to see how huge they were up close," Fritzel said. "It was just go out there, have fun and when the balls in the air don't jump for it because you'll probably get murdered."
The senior Jayhawks won the event - which at times resembled a Harlem Globetrotters' game - by the score of 100-91. Jeremy Case shot lights out on the night, hitting six 3-pointers and scoring 30 points. Fellow senior Rodrick Stewart, seated on the bench in a leg brace, also got into the act, throwing lobs to Jackson and others.
Before the game started, Fritzel's team didn't really know what to expect, but once the game started and they loosened up they realized it wasn't to be played in total seriousness.
"We were all real antsy, real nervous about going out there and just getting owned," Fritzel said. "But as soon as we stepped on the court, we were fine."
In the first half, Fritzel collected the first of his two steals and took the ball to the basket for a lay-up. But Jackson beat the ball into the stands, drawing some laughter. But Fritzel would have another chance at going to the hole against Jackson in the second half.
"I should have had a dunk, but Darnell Jackson decided to throw me to the floor," Fritzel said.
The statewide tour ended at Lawrence High, and a portion of the proceeds went to Lawrence High assistant football coach Devin McAnderson, recently diagnosed with myelodysplastic syndrome, a form of leukemia.
Wedd said although the gym was half full, the event was a success and the Jayhawk players were happy to be able to end the tour in Lawrence.
"Every little bit helps. We didn't picture it as an all-star game. It was just a way of trying to raise some money for Devin," Wedd said. "The (KU) seniors did a great job. I know they like being close to home, so it worked out good for them."
The night's final proceeds is still unclear, as the bills required to put on the event are still being paid.
Fritzel, along with the other nine players, benefited from the event in a way that can't be represented by dollars.
"It was one of the best experiences I've ever had," he said.