Graduation a bittersweet time for
EHS

seniors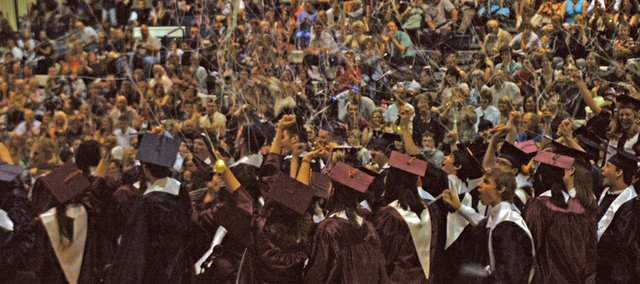 Eudora High School celebrated the class of 2008 Saturday during its graduation ceremony. It was an event punctuated by bittersweet feelings for all involved.
"It's amazing," Dustin True said. "It's a relief, and it's kind of nerve racking."
True, who will attend Kansas University in the fall, said the idea of beginning college was a bit daunting, but he was still ready to take the next step.
True's mother Cindy Soper also was struck by emotions that welled up in her eyes in the form of tears as she spoke about watching True receive his diploma.
"I've never been so proud," Soper said. "He's my baby, but as soon as I saw him walk across that stage I realized he's a man now."
Matthew Abel, who will play baseball at Northern Oklahoma College-Enid, was primed to take the next step in his life.
"We've been waiting for this for 12 years," he said. "It feels good, I'm ready to get out there."
Morgan Abel, Matthew's cousin, said he would miss his friends and family but was ready to move on.
"I guess it's a little sad, but at the same time you've got to get going with the rest of your life," Morgan said.
Though graduation happens every year, it's an event EHS English teacher Matt Bova, in his role as speaker at the ceremony, hoped to make personal for the class of 2008.
"Even though it happens every year, it's always new and sad to me," Bova said. "It's their first time and if you don't try to capture that feeling, you're missing out on a lot of the reason to do this job."
Bova was especially moved to have been chosen by the students to give the address
"I was deeply touched," he said. "It was moving to be recognized like that. It was an honor, and I can hardly articulate it."
In his speech, Bova, reflected upon the humorous experiences of the students through their own writings in his English class and he encouraged them to be grateful for all the people who played a part in helping them graduate.
After the ceremony, EHS Principal Dale Sample attributed the school's nearly 100 percent graduation rate to the level of involvement and high expectations of the parents, teachers and students
"It brings you to the old saying that it takes a village to raise a kid," Sample said. "There's a lot of support, outside and inside (the school district)."
Bova agreed with Sample's comments and couldn't imagine things any other way
"It makes my job so much easier when there is this collective expectation throughout the community, throughout the schools from kindergarten on, that you're going to make progress on the way out of here," he said. "I think if you pull that sense of support away, I don't know what it would be like to be in a building like that."
The motto for the EHS class of 2008 was "Life's a garden, dig it." One might recognize the phrase as the refrain of the protagonist in the white trash epic "Joe Dirt." It was his way of spurring himself on when his tragically humorous life got especially tough.
But for the class of 2008, the phrase was a celebration of everything and everyone that propelled them to this point in their lives.