Eudora Downtown Business Association readies sign campaign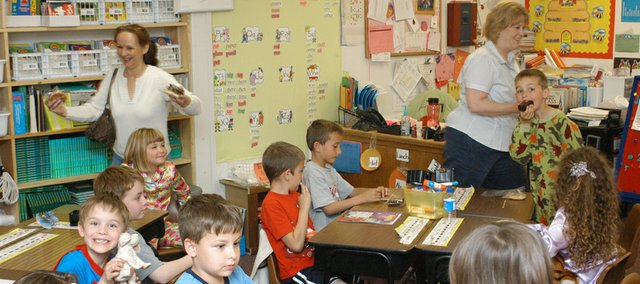 The city of Eudora will give the Downtown Eudora Business Association $500 to $1,000 for signs that direct people to alternate parking areas during construction to beautify Main Street.
Construction is set to begin in early June on the 90-day downtown revitalization project.
"We're trying coordinate with them so that the project causes the least amount of problems," Eudora City Administrator Cheryl Beatty said. "We recognize that any hindrance to foot traffic can impact the businesses, so we're trying to assist the businesses and let people know where they can park."
The Eudora City Council supported making funds available to assist the organization.
"I was thrilled," DEBA President Tina Lencioni said. "It just makes you feel good, and Cheryl said the council knows we're a good organization and what we're doing is a good thing."
The signs will resemble male and female road workers - a strategy used by businesses owners in Hutchinson during similar construction - and the DEBA asked first-grade classes at Nottingham Elementary School to give the signs names.
Bobbi Hamman's class came up with the names - Break 'Em Jake and Slowdown Sue - chosen by the DEBA. Lencioni and DEBA sign committee chairperson Bonnie Freeland brought brownies and cookies to the students Friday.
There also will be a banner-style sign that will span across Main Street at 7th Street, which will welcome visitors and inform them of the situation.
The signs further solidify the presence of the DEBA after previous attempts to establish such an organization failed.
"Tina has really done a lot to get things going, and we've had a lot of participation," Freeland said.
Working with Beatty and other city officials was also a big help because the rules and regulations with which the organization must comply were made clear, Freeland said.
"That might be a difference from the previous downtown associations - we didn't have a lot of support from the city," she said. "But Cheryl has been with us on it and helping us out."
The revitalization project will repave streets, install new sidewalks and lighting for the area spanning from Seventh to Ninth streets on Main Street.
Bidding for the project closed Friday.
More like this story