Church hopes new building will increase impact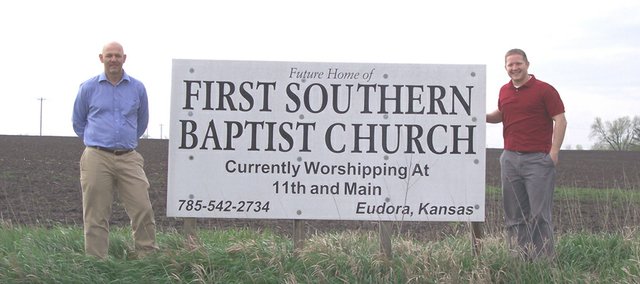 You can add the First Southern Baptist Church to the list of facilities throughout Eudora that are catching up with the needs of a community that has doubled in size over the last 10 years.
Pastor Kevin Wood said the church, located at 1103 Main St., still meets in a building crafted in the late 1960s that was built to hold about 100 people. However, the FSBC congregation is more than double that size and they have no parking lot.
"We've come to the point in our history a couple of times where we're pretty crowded, and the most recent period of crowding has just left our building past capacity," Wood said. "We have a vision as a church to impact this whole area and it's going to be hard for us to do that in the present location."
Associated Pastor Jeff Ingle joked that the congregation must be a loving group for the lack of space between congregants during a typical Sunday morning service, but Sundays aren't the only day where there are logistical concerns for the church that has been in Eudora for the better part of 50 years.
"We're trying to keep from having to split our services up," Ingle said. "But on Wednesday nights now, our youth meet at a separate location at Nottingham (Elementary School) because there's just not enough room or space for us to have the children's ministry, the youth ministry, the prayer meetings all at the same time. It's not feasible."
Though FSBC will put up a sign within the next few months and make some land improvements, the plan is to break ground in the fall and begin construction in March or April 2009 on what will be a 17,000-square-foot, $1.8 million facility.
Construction is slated to be finished in November 2009.
In order to raise money, the church already had a capital campaign last summer and received $440,000 in commitments from church members. The church also plans to sell its current building and get a bank loan.
The church hopes to make up the remainder of the cost by working with volunteers to actually construct the building.
"We're looking at a building that is going to cost about $1.8 million dollars and for a church of 250 it's pretty impossible to fund something that big," Wood said. "We're hoping that as a church we'll be able to raise about $1 million and then get the volunteers to offset the $800,000 by doing the work for us."
Wood said the church hopes to work with an organization such as Builder's For Christ, which is run by Summit Baptist Church in Acworth, Ga.
The new church will be located on 20th Street just about half a mile west of the Eudora Township Fire Department.
The new location is in line with a general push by builders and businesses to move south toward the area of Kansas Highway 10. It's also in line with Wood and Ingle's desire to be on a more conspicuous location than where the church is now.
"It's interesting that it's becoming the new Church Street out there," Wood said. "I think that's interesting that the whole town is moving that direction. As far as our present location, we're pretty invisible.
"It's remarkable that we have as many people coming here as we do because we don't have parking and we don't have very good visibility."
Though Wood and Ingle certainly are looking forward to moving to a new location for logistical reasons, what excites them most about the new church is not the building, but the people they hope to reach.
"Our goal is not a new building," Wood said. "We're not interested in a building; we're interested in ministry. We really feel like this gives us the opportunity to do what we envision, which is to touch every home and every life in the immediate area.
"The building is going to be important, but that building wouldn't be significant if we weren't touching lives."