City council awards streetscape bid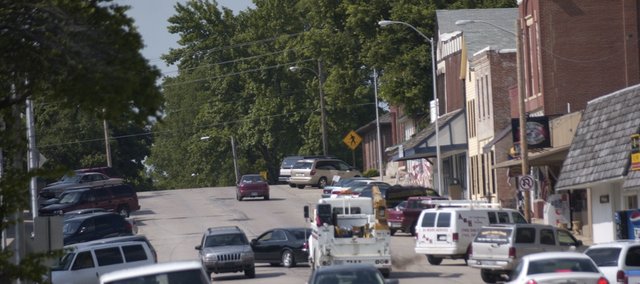 After six years of talks and planning, the revitalization of downtown Eudora is one step closer to beginning after the City Council Tuesday awarded bids for the streetscape and storm drain project.
"It's hard to believe that it started six years ago," City Administrator Cheryl Beatty said. "But what people don't understand is that this is typical because it takes a long time to finance these projects because it involves federal grant money. It's not just something that you snap your fingers and do - we had to save for three years to have matching money in order to get the grant. Projects of this caliber do not happen over night."
Of the seven bids made, RD Johnson Excavating Inc. of Lawrence was awarded the bid at a price of $1,240,611 - $753,548 for which the city will be responsible.
Kansas Department of Transportation officials chose Eudora as one of 18 cities eligible for a transportation enhancement grant. The grant will cover 80 percent of the streetscape improvements.
Engineers estimated the project would cost about $1.5 million and the city had budgeted about $902,000 for its part.
"We were hoping that bids would look good and that the city and the county had budgeted enough - and everybody had," Beatty said.
The city had applied earlier to KDOT for the revitalization and it was denied because there wasn't enough public input and the price was too high.
A series of public meetings were held in late 2005 through early 2006 and the city resubmitted the grant. However, the state didn't a get response back to the city in time for construction season so project was pushed back to this year.
New sidewalks will be added and new lighting installed for the area spanning from Seventh to Ninth streets on Main Street. Main Street also will be repaved and fitted with new curbs and gutters from Sixth to 10th streets.
The city anticipates one change on order prices as a result of rising oil costs associated with asphalt. That change will result in an increase somewhere between $5,000 and $10,000.
The 90-day project will begin in mid-June, contingent upon the city's approval of a materials list and subcontractors, as well as approval from KDOT.
More like this story