Eudora girls collect 16 team points, boys struggle at state meet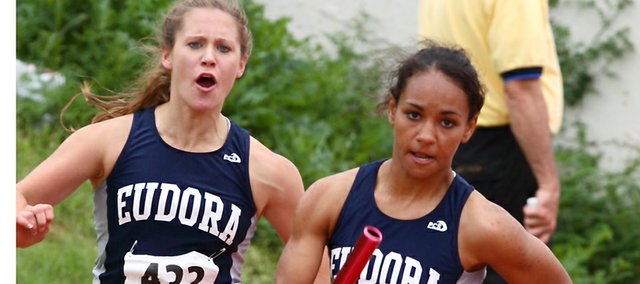 Everything is a little bigger in the last meet of the year.
At state the stadium is larger, the lights shine a little brighter and the competition is the best anyone has seen all year. Eudora sent multiple athletes to Wichita for the state meet, and while not everyone scored points, there were a couple of performances for the record books.
Emily Ballock completed a career sweep of the 300-meter hurdles by winning her fourth straight state title, and Allison Hoover set a school record in the pole vault.
The girls team scored 16 points to finish in 13th place. Ballock had a hand in 15 of those points. The senior won the 300 hurdles, helped the 3,200 relay team place fifth and finished sixth in the 100 hurdles.
She also ran in the 1,600 relay, which fell two places shy of qualifying for the finals.
"The team has been inconsistent all year, I've been on and off and other girls have been on and off, but I think we surprised some people by qualifying out of regionals," Ballock said. "We came here and just represented Eudora and ran hard and it's too bad we couldn't make finals, but I'm not disappointed at all, I'm happy with us."
Winning her fourth state crown was a relief for not only Ballock but also coach Phil Katzenmeier.
"History will tell how great of an accomplishment that was," Katzenmeier said.
In the pole vault, Hoover cleared 10 feet, 6 inches for a new school record.
"It felt great," Hoover said. "I've been jumping the same height for three years, and at regionals I broke the school record and here I just broke my own record. I've worked hard for it."
Hoover jumped a then-school record 10-00 at the regional meet to qualify for state, and despite her improved height she finished outside of the scoring positions.
"She exceeded my expectations, but the whole field did," Katzenmeier said. "I felt like there were going to be some people that make 10 feet and place and some that don't, but you had to make 10-06 just to place."
Hoover placed ninth because three of the other pole vaulters to finish at 10-06 cleared the height on their first jump and finished ahead of her.
"I was disappointed that she didn't get a medal but that doesn't mean it wasn't a great accomplishment," Katzenmeier said.
The other point scored for the girls team came from a seventh place finish by the 400 relay team. The same quartet finished second at last year's state meet and had hopes of improving on that placing this time around.
"We had hoped for better but they didn't run well in the prelims and we got what we deserved," Katzenmeier said.
The team has dominated its competition all season, but in the prelims they struggled with their handoffs and finished eighth to nab the final qualifying spot for the finals.
"We went home, we talked about it at the hotel, came back today and we focused, warmed up well, and it's just good competition at state," Kendal Abel, the third leg of the relay, said. "We haven't seen that good of competition."
As the top seed at most meets the team is used to running in the first lane, but as the last team to qualify for the finals it was forced to run in lane eight.
"I hate running the outside," Abel said. "Just the fact of being on the outside and not being able to see anybody to catch them, to push yourself harder, so it's really hard and I hate being on the outside and I think it messed with all of our minds."
Abel also finished 12th in the long jump (16-01) and 13th in the javelin (113-01). On the boys side, Mike White and Justin Ballock each finished 11th in their preliminary races, White in the 100 and Justin Ballock in the 110 hurdles.
"The biggest thing was that we had a lot of people that competed well and accomplished the task of getting to state," Katzenmeier said. "Once we got there, the competition is so much better, and I think we did as well as we could."
More like this story