Voting continues throughout Eudora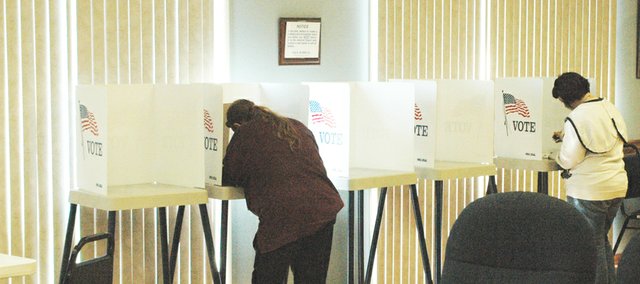 Poll workers said voter turnout for today's general election was solid in the early morning and then slowed at midday.
They anticipated it would pick up around 5 p.m.
"It seems a little slow right now, but that's probably because of the success we've had with advance voting," poll worker Karla Grosdidier said. "But that can be a good thing because there might not be as many lines (later on)."
About 20 percent of registered Douglas County voters cast their ballots in advance.
Polling places will be open until 7 p.m. this evening and Douglas County Clerk Jamie Shew said he anticipated a voter turnout of about 80 percent.
Three of Eudora's polling stations also will have polling places just for kids so they can cast their ballot for their candidates of choice. Any student is invited to vote at Eudora Church of Christ, Eudora City Hall or Eudora Township Fire Department from 6:45 to 9 a.m. or from 2:45 to 7 p.m. on Tuesday.
Polling places according to districts are:
• District 50 (west Eudora) will vote at the Church of Christ, 1530 Winchester Road
• District 52 (north Eudora) will vote at Eudora City Hall, 4 E. 7th St.
• District 53 (south Eudora) will vote at the Eudora Township Fire Station, 310 E. 20th St.
• District 54 (central Eudora) will vote at the Eudora Community Center, 1630 Elm St.