Fifth-grader wins regional award in
KDOT

safety poster contest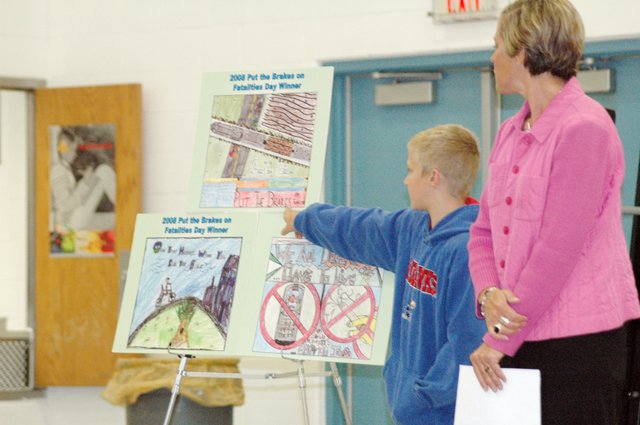 Eudora West Elementary School student Trevor Neis, 10, applied what he had learned outside the classroom to excel inside it.
The fifth-grader was one of three students in northeast Kansas to win regional honors in the Kansas Department of Transportation's "Put the Brakes on Fatalities Day" poster contest.
Neis was pleased with the win, which earned him a free bicycle and helmet from Wal-Mart. However, he elected to take the cash value of the bike and helmet and is saving it for a laptop computer.
"I felt really happy," Neis said. "I've entered a lot of drawing contests, and I'm glad that I actually won this one."
Neis drew a poster that asks people to stop for trains. His inspiration came from an incident in which his dad's friend was injured in a train accident. His poster also had a list of ways to stay safe.
"At his young age, he's already experienced someone who has been in an accident with a train," KDOT public affairs manager Kim Qualls said. "So, he's already aware, and that's good because he took that and applied that to safety."
Neis enjoys drawing and said he spent a lot of time in his room sketching Eudora's mascot.
"I like to draw the Eudora Cardinal quite a bit," he said. "I'm not the best at that, but I'm trying to get better."
His parents were so thrilled with the award that they still have the message on their answering machine notifying them of his win.
West Elementary Principal Jan Irby said she was proud of both the students and staff for their work on the posters.
"It's absolutely wonderful the way the children have taken this so seriously and that they can take what they know and be ambassadors for not just themselves, but also their parents," Irby said. "I'm proud of the staff to be able to be such great safety mentors and to be able to deliver lessons that have such great meaning."
In turn, Qualls praised Eudora USD 491 for allowing time within the curriculum for teachers to talk with the students about traffic safety.
She said KDOT's hope was that children not only would learn, but also teach those around them.
"Kids are some of our best educators," Qualls said. "If we start them now at these younger ages, by the time they get up into high school they'll have a knowledge of safety."
A record number 1,574 students entered the contest in which students were asked to create a poster that would make people of all ages aware of the need to reduce highway fatalities.