From Jayhawk to Cardinal
Former
KU

wideout has caught on with Cards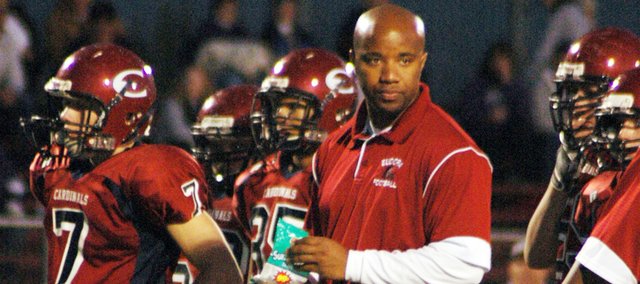 For Marcellus Jones, Friday night lights mean just as much to him now as when he played on Saturdays.
"I still get the chills whether it's game day on Friday night here or game day on Saturday," Jones said. "I still feel my heart beating like it's time to go make a play or at least try to. Even though my time is long behind me I still get excited for game days."
Jones, a former Kansas University wide receiver from 1999 to 2002, just completed his second season as an assistant coach at Eudora where he coached wide receivers and defensive backs.
Jones graduated from KU in 2003 with a journalism degree. He works in pharmaceutical sales travels to doctor's offices and leaves them samples.
This season when his workday was done, he would travel to Eudora and assist coach Gregg Webb. Jones said he had a few friends who knew Webb and they inquired about Jones helping out. Jones and Webb met last year, and Webb asked if he wanted to help. Jones said yes.
"It's been a lot of fun," Jones said. "You know, I knew a lot about the game from a perimeter standpoint being a wide receiver but being around coach Webb and his staff I've learned a lot about the game as a whole.
"Just because I played college football doesn't make me 100 percent knowledgeable about the game. I just knew the part I was responsible for, which was wide receiver and defensive back. Being around coach Webb I've learned more honestly in two seasons of working with him than I have in all of my years of football."
This year the Cardinals went 4-5 and did not make the playoffs. For the past two seasons, Jones said he had been asked questions ranging from his playing days at KU, whether or not receivers should wear gloves or sleeves when it's cold, and to what he wears to work.
At work he has to dress up and at Eudora practices he'll wear KU and Eudora Cardinals gear. On the sidelines, he signals to players during the games and would congratulate them on a good play and let them hear it when they made a mistake.
"He's a Division I athlete that played for KU and the kids just respect that right out of the gate," Webb said. "And then his relationship with them is so good and he handles them the right way.
"He gets on them when he needs to. He's honest and he's not trying to play mind games with them. He tells them what they need to do. They respect him and they believe him and when I kind of get on them too hard, he settles them down."
Last year on the sidelines Jones would occasionally give Webb suggestions on play calling, but this year he didn't do that quite as much.
"This year I've just tried to be a sponge but at the same time give the kids the knowledge that I know," Jones said. "We didn't throw the ball as much for obvious reasons having Ryan Fisher back there but just being there for the kids and giving them an outlet is what I like.
"I hope my role is bigger than just football. You know, giving kids someone to talk to if they ever need be. And they see me as a coach but at the same time someone they can confide in or talk with."
Cardinals sophomore wide receiver Christian Richardson said having Jones around the past two seasons had helped him improve as a player.
"He makes me bring out what's inside of me," Richardson said. "He makes me play harder. He takes my potential and makes me want to play harder. He's a real inspirational coach."
After Eudora's season ending and heartbreaking win over Baldwin, Richardson said Jones had a message for him.
"He told me I need to get in the weight room and get stronger and do anything I can to make sure the season doesn't end next year like it did this year and get a run at a state championship next year," Richardson said.
Jones also told him with a smile on his face.
"He's a great, great person and great coach," Webb said. "He's a better person than he is coach, which is hard to be because he's so darn good of a coach."
Jones isn't sure if coaching is something he wants to do full-time in the future. He said it would probably require him going to grad school. His wife is currently attending grad school because she wants to coach. Jones said he planned on going back to school to get a Master's degree but was undecided on what field.
"I don't know if I would have the patience as Webb or have the wherewithal to do that full-time," Jones said. "I don't know. I can't tell you what the future holds."
But in the meantime, now that the season is over for Eudora, Jones will return to his sales job. But look for Jones to be patrolling the Cardinals sideline once again next year.
"This has been a blast," Jones said. "I've learned a lot but I've had a lot of fun. Hopefully I'm having an impact on the kids.
"And every year they invite me back, I plan on coming back and hopefully being with Webb to win a state championship one of these days."