Students work polls, encourage kids to vote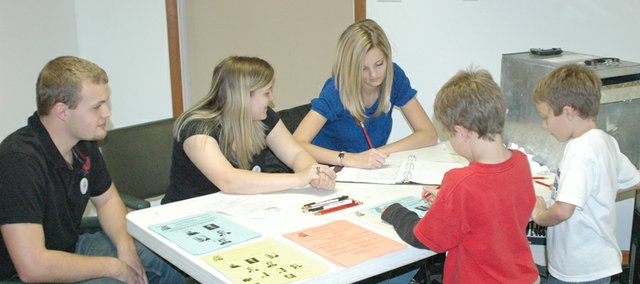 Seventeen-year-old Haley Sellers fondly recalled participating in Kids Voting Kansas in elementary school. By working with KVK Tuesday, Sellers and 14 other students in EHS teacher Robyn Kelso's U.S. government class hoped to create the same positive memory Sellers had as a child.
"I remember when I voted and I thought it was so cool," Sellers said. "It will be fun to see the kids and how the act with it.
Kids Voting Kansas allows students who are not of legal voting age to cast a ballot that won't count, but will be tallied by KVK and then forwarded on to Kids Voting USA.
Sellers, Heather Goodlett and Justin Schmidt manned the polls at the Eudora Township Fire Department.
Schmidt, 17, said being involved civically has become more significant to him during his time in Kelso's class.
"Here recently, it's very important because it's part of our grade," he joked. "But I have realized it's a little more important than just getting an 'A' in a class and I have to actually participate in being a citizen."
Some kids seemed intimidated by the process. Sellers, Schmidt and Goodlett said that made it all the more important to show them how easy it is to vote.
"It's good to get them stated early," Goodlettt said.
Katie Unrein brought her twin 7-year-old sons, Kolten and Justen, to participate in KVK for that very reason.
"It's important so that they learn they need to vote in the future, so we'll make it a habit now," Unrein said.