Competitive spirit drives
EHS

Scholars Bowl team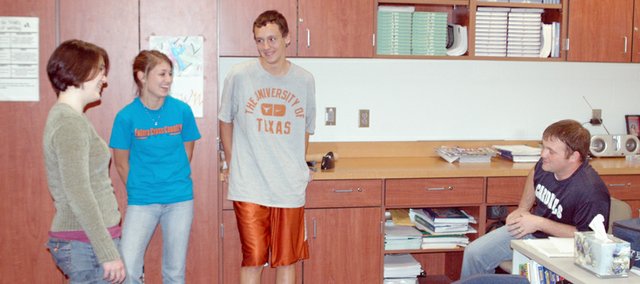 The members of the Eudora High School Scholar Bowl team approach their competitions with the same level of intensity as athletes on the playing field.
"There have been some times where some of the students will get mad if they knew the answer and another team beat them to it or even when a teammate beats them to it," coach and EHS business instructor Brad Huber said.
He'll get no argument from senior Alex Mott.
"It's kind of hard not to get into it," she said.
The team began its season Oct. 27 and has a record of 10-9-1.
Each meet consists of a four-round tournament with 16 teams battling in head-to-head competitions.
"It's basically like team Jeopardy," Huber said.
There are 16 questions per round with teams fielding questions in categories ranging from history to math.
The team does have alternates, which has been good during the first couple of weeks. Several students at EHS participate in a wide array of extra-curricular activities, so some team members have had commitments to sports teams or other clubs, which prevented them from attending meets.
"With volleyball, football and soccer, it's kind of been a matter of who can go," Huber said. "That will kind of get easier now."
Any stereotype that Scholar's Bowl competitors are mild-mannered and not especially demonstrative doesn't fit the EHS team.
Junior Taylor Johnson said team members like to psyche out the competition — a well-placed snicker after a bad answer or some harmless flirting never hurts — and have no problem with talking some trash, albeit in a highbrow manner.
For instance, Johnson said they say phrases such as "therein lies the paradox" just to get into opponents' heads and make them think there is something going on that they're not aware of.
"Coming out and getting the first four or five questions right also does a good job (of psyching out opponents)," Huber said.
Each of the team members has strengths and weaknesses that allow for a balanced attack in each round of play.
Where one member might be good at math and not fine arts, another might excel at fine arts but not math. That diversity is the key to being competitive at each meet.
"It's important because if you just had all English people, there are three math questions that you're just handing to the other team," Mott said.
Team members also practice before school to keep their minds sharp and ready to answer quickly, but preparation doesn't always work.
"There are some questions in meets where you'll see the students and the sponsors look at each other like, 'where did they come up with that one,'" Huber said.
Huber, who is in his first year coaching the team, said there's more to it than he expected because of the need to have a team without any weaknesses across all subjects. He also has to be mindful of team chemistry.
Team members said they didn't think their participation helped them in the classroom; it's more the reverse.
"Classroom helps with this, because most of the time if we know it, we learned it in the classroom," said junior Tyler Beebe
Johnson said she joined the team because she wasn't a good athlete, and Mott recruited Beebe. Mott couldn't remember what first made her want to join the team, but she had no trouble recalling one of the positive reasons for participation.
"The cookies — there's usually cookies at the meets," she wryly remarked.
The next Scholars Bowl meet will be Monday at Prairie View High School in La Cygne.