Running down a dream
Ryan Fisher concludes
FB

career at

EHS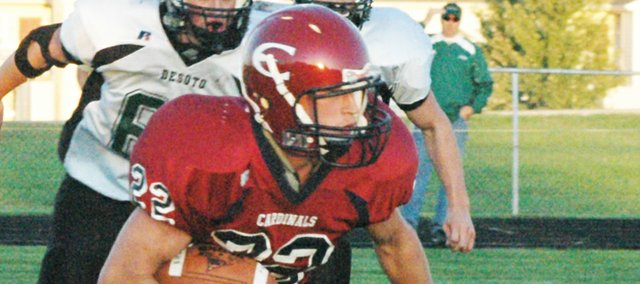 His final statistics for the year are eye-popping. He's a sure All-Frontier League first team pick at running back. Ryan Fisher's final season and Eudora High School career may be remembered in Cardinal football lore for a long time.
"I thought I had a pretty good year," Fisher said. "I just wish I didn't get hurt and miss that one game. My goal for the season was to get 2,000 yards and I came up just short of that. Other than that I'm fairly happy with it."
Fisher was a workhorse all season for Eudora. He literally carried the Cardinals and defenders on his back the whole year. Fisher's 264 carries this season are proof of that. He averaged a whopping 33 carries a game. He ran for 1,826 yards, averaging nearly seven yards a carry. He rushed for 20 touchdowns.
Fisher's speed, vision, ability to break tackles and toughness are characteristics that made Eudora coach Gregg Webb describe him early in the season as "the best back in our league."
Running wild
Fisher fell just 174 yards shy of his 2,000-yard goal. He likely would have made it if he hadn't been injured during week two against De Soto and missed the following week's game.
But tearing three ligaments in his shoulder is an understandable reason for taking a game off. That game, though, was homecoming. Eudora easily beat Ottawa that night, running through the Cyclones, 49-7. The Cardinals ground game racked up 444 yards rushing as Zane Pittman, Ryan Mendel and fullback William Gadberry shouldered the load that night for Eudora.
Fisher returned to the Cardinals' backfield the following week and gashed Paola for 172 yards on 26 carries. He followed that with a 155-yard performance against Louisburg, and two weeks later a 272-yard, five touchdown outburst at home against district foe Perry-Lecompton.
Eudora lost the game, 41-33, as both teams scored touchdowns nearly every possession of the game. Late in the fourth, Fisher's legs carried the Cardinals deep into Perry territory, but Fisher was stopped a few yards short on a fourth-down run, ending Eudora's chance to tie the game.
The Cardinals played at Santa Fe Trail the next week, and Fisher ran for 227 yards and four touchdowns in the game.
"Playing with Fisher always made your blocking job easier," Gadberry said. "He always seemed to find the holes no matter where you take them. He always seems to make things happen. He made our line look better, and our line helped him out. So it was a great year and a great experience back there."
Fisher, though, as he did all season gave credit to his offensive line, including Matt Schultz, Cody Carlson and Colton Lynch as well as his backfield mates, fullbacks Gadberry and Boomer Mays.
"It was great running behind Gadberry, Boomer and Cody and all the guys," Fisher said. "They opened up some really good holes. It helped out a lot. It made my job a lot easier."
Fisher saved his best performance for his last. On Senior Night against rival Baldwin in front of a jam-packed crowd with a berth in the playoffs on the line, Fisher sliced the Bulldogs for 443 yards on 49 carries. It was one of the best rushing performances in state history. He also scored five touchdowns, including a 54-yarder and an 87-yarder in the fourth quarter. Fisher's last touchdown gave the Cardinals a 35-21 lead late in the game. The Cardinals needed to win by eight points to make the playoffs, and if they had won by 10 points they would have been district champions.
It seemed at the time that Fisher's great season would run through the playoffs. But Baldwin scored a touchdown in the game's final minute. Eudora won the game, 35-28, but was knocked out of the playoffs by a single point.
Fisher and many of his teammates walked off the field with their heads down. They had won the game but would not play in another.
End game
Inside the somber locker room after the game, Fisher cried and hugged teammates and coaches for the final time. His football career at Eudora was over.
The only game he didn't run for more than 100 yards this year was midseason against Gardner-Edgerton. He was held to 47 yards on 20 carries. That was also the only game he didn't score a touchdown. But scoring 20 touchdowns (14 in his final three games) and rushing for almost 2,000 yards is still quite an accomplishment, perhaps even more so considering he could do no upper body lifting because of that shoulder.
"He would have had an even better year if he would have just stayed healthy a little bit," Webb said.
Fisher also had to give up his starting cornerback position and didn't play defense again after he got hurt.
"He would've helped us on defense," Webb said.
The Cardinals ended the year at 4-5 and 2-1 in district play. The Cardinals lost a three-way tiebreaker to Perry-Lecompton and Baldwin.
"The year overall I think was fairly decent," Fisher said. "We didn't play up to our potential, I thought. But you can't sit there and dwell on that."
With the season now over, Fisher has already moved on.
Back and running
Fisher was going to play basketball this year but might not because he will probably need surgery to repair his shoulder, he said. But look for him to be running track for the Cardinals this spring. In the meantime, he will work to heal his shoulder and wonder when and where he will play football next.
"I'm going to see if I get any offers or try to walk on somewhere in college," Fisher said.
Turning in his pads last week Monday, Fisher walked down the halls to the locker room with schoolbooks in hand. His curly blonde hair and blue eyes had returned from the red-faced and teary-eyed player that cried as he left the Cardinals locker room after his final game and career were over.
He thought for a bit before summing up his career as a Eudora Cardinals football player.
"I'm happy," Fisher said with a smile. "It was a good ride. I enjoyed it a lot."