Soccer team battles through tough season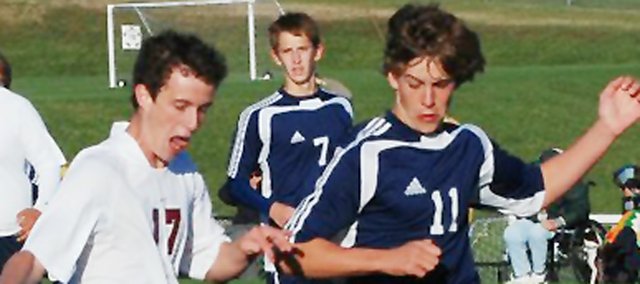 If you measure the 2008 Eudora soccer team by its record alone, then the season was a disaster. The Cardinals didn't win a match and finished the year at 0-17.
If you measure the team's development over 17 games, and the experience the young squad gained, then it wasn't a total loss.
The Cardinals had just 10 upperclassmen on the roster, six of them seniors. The club also featured 15 underclassmen, eight of them freshmen. The young squad was besieged by injuries this year and lost goalkeeper Ben Miller to a late-season knee injury. Madeline Dickerson also went down with a knee injury late in the year.
Eudora started with a small squad, and as the season went along it became a scramble just to conduct practice and field two teams. A few players also left the program. But some players contributed to the end.
Miller and fellow seniors Jackson Wiley, Derek Scrimsher and Kayla Chilcoat stayed with the team. Wiley had a knack for getting assists on Eudora's goals, Scrimsher played tough defense and filled in for Miller at goalkeeper. And Chilcoat also contributed on the back line and earned second-team All-Frontier League honors for her play.
Junior Matt Jump also earned second-team honors, and Eudora coach Harmon is counting on him to help turn things around next year.
"He's the one guy who plays at a higher level," Harmon said.
Late in the season against Perry-Lecompton Jump perhaps may have tried too hard to put the Cardinals on the scoreboard at times this year.
"He took it upon himself to try to take over the game," Harmon said. "Well, one guy can't take on the other 11 by himself. We've been trying to tell him to take more of those opportunities for himself. Shoot when he can."
Jump said he was disappointed in the team's record this season, but said he would use it as a learning experience for next year. He added that he wished the team would've had more practices during last year's offseason.
"If we would have started sooner, it might have been a lot better but there's nothing really we can do now," Jump said.
Sophomore forward Jacob Beck also gained valuable varsity experience this year. He said the team wasn't physical enough this season and hoped to improve on that next year.
"We need to get more team get-togethers and have more team stuff over the summer because last summer all we did was individual kick-around separately," Beck said. "We're going to have to get everybody together. We're going to have to get a lot more touches on the ball this summer and get a lot better conditioning."
Eudora could stay with teams for a while, and the Cardinals put up strong fights for the first 40 minutes against teams including Ottawa, De Soto and Baldwin. But teams often had more speed and eventually wore the Cardinals down in the game's final 40 minutes of play.
"Speed is a premium in this league," Harmon said.
As the losses began to mount, Eudora seemed to press more instead of letting the game come to them. Against Baldwin, Eudora had an early 1-0 lead but Baldwin retook the lead and out of frustration, the Cardinals kicked a few balls 30 yards downfield, way past their teammates.
But Eudora battled each game this season, and despite its final record, Harmon praised his team.
"All in all, I'm very proud of our team," Harmon said after the season. "We had a lot of uphill problems based on a variety of things that were beyond our control and we battled through it."