Cards ready to rumble
Eudora wrestling squad looks to bring back state medals this year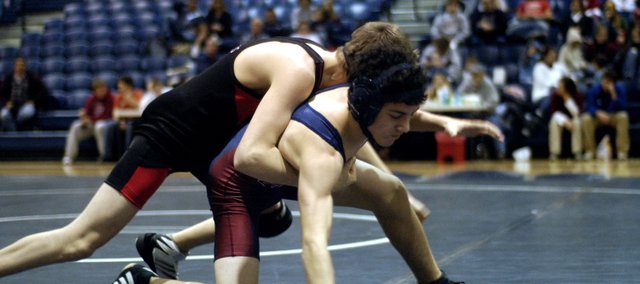 Eudora wrestling coach Bill DeWitt's squad will look quite a bit different from last year's. Gone are his three senior state wrestlers from last year, but he has a mix of veterans and youngsters in his stable this year.
"We've got a lot of kids coming back who can do some damage," DeWitt said.
Key returnees include seniors Derek Scrimsher, Jackson Wiley, Ethan Becker and Max Campbell. DeWitt said he would look for those four seniors to be the team's leaders.
"Those are good kids," DeWitt said of his senior class. "They're going to work their tails off."
Scrimsher said he weighted about 160-pounds and wanted to wrestle in the 152 range this year. He advanced to regionals last year but was knocked out two matches before the finals. He said that loss helped motivate him.
"I want to wrestle as hard as I can and take it as far as I can go," Scrimsher said. "Leave it all out there on the mat with no regrets or anything at the end of the season. I'm going all out every match this year. I'm not going to let anything put me down or let me down."
DeWitt also is pleased to have what he described as a "pretty nice sophomore class coming back," which includes Boomer Mays and Caleb Clayton-Molby. Molby began last year on the J.V. squad and worked his way up. He wrestled varsity near the end of last year and was one match away from qualifying for state.
DeWitt said one of the challenges this year's squad had was being able to replace the departed senior class. No one on DeWitt's squad this year has state wrestling experience, he said.
"It's nice if you can return a little bit of that postseason experience but we don't have any of that," DeWitt said. "But we have some kids who have gone to the tournament and kind of seen the show and I have some kids who participated in regioanls last year,"
Last year the squad finished third at league meet, and DeWitt said the squad could improve on that.
"I anticipate doing a lot better in that regard this season," he said.
The wrestling squad began practicing Monday and has more than 30 kids out for the team. DeWitt said the team might not have two-a-days, at least for a while, because many of his wrestlers were already in good shape from having participated in a fall sport.
Between Monday and season's end, DeWitt wants the squad to get stronger and more physical each week. And part of accomplishing that task would be getting the players used to varsity competition.
"I have some kids who have spent some of their development at the high school J.V. level, so we're going to have to acclimate them to the varsity season," he said. "But as we go through the season, we hope those guys get better and tougher. And we obviously want to peak at the right time of the year around regionals time."
Eudora will open its season with a dual against Santa Fe Trail Dec. 2 at Eudora. The Cardinals will then travel to Atchison four days later for the Tilton/Worley Tournament before returning home for the Eudora Tournament of Champions Dec. 12. And though the state meet is more than two months away, DeWitt said the Cardinals could have a strong contingent there.
"If we can stay healthy, I anticipate being a very strong team at the end of the season."
More like this story