Riemann paces Cards in '08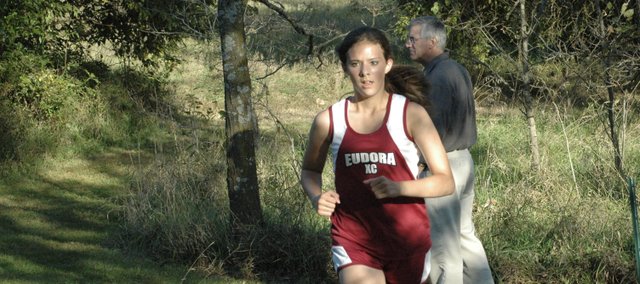 It took a few weeks for Kaya Riemann to actually run at a meet this year. She battled injuries early and they slowed her down — but not for long.
Riemann eventually got healthy again and reclaimed her spot as Eudora's No. 1 runner. She then ran to an 11th place finish at the league meet and finished 51st at state. Fellow sophomore Ivan Espinosa also battled injuries this season, and like Riemann he recovered and ran at state.
"Her and Ivan's season, they both just had to have faith to say, 'You know, I've just got to come out and do the best I can do and I can't worry about what the results can be and just do what I know is right, right now. And they did that," Eudora cross country Paul Boone said.
Riemann also finished 11th at the league meet and earned All-Frontier League second-team honors. The girls team was young in 2008 and it marked the first time in five years that the girls as a team didn't qualify for state. But the team improved over the course of the year and finished fourth at the league meet. Boone credited his five senior runners, Liz Hoese, Rachel Pyle, Bre Miller, Johanna Buchner and JoAnna Male, for the team's success.
"Our senior group leads by example," Boone said. "They're not a real rah-rah group, and that's great. They really found what their leadership style is and they used it well."
The senior class was young experience wise, as only Hoese was a four-year runner. But Male, who was a track runner and participated in cross country for the first time this year, took seventh-place at the Gardner meet and earned all-league honorable mention honors. Boone said the team stayed balanced because it had good work ethic and didn't get down when, at times, injuries seemed to mount.
"To be able to do that, you get a lot of enjoyment out of it," Boone said. "I definitely did seeing them progress and seeing things come together for them."
The team also saw contributions from juniors Taylor Johnson, Hannah Pittman and Molly Brunton. They will be counted on to provide leadership for next year's team.
Riemann and sophomore teammate Chelsea Grammer will also be veterans next year. But the 2009 squad could perhaps benefit most from the experience freshmen runners Bria Carder, Fernanda Garcia and Whitney Weld gained this year. Eudora's J.V. squad also took third at Tonganoxie this season.
This winter, the team will rest for a bit and some will continue to train. Boone and the coaching staff will also meet with the runners to discuss their season and set goals for next year.
"We want to keep doing the things that they feel like are really helpful to them and we want to adapt things that they thing weren't as helpful," Boone said. "Or fill gaps if they fill like we need to do things differently."
And Boone added that despite the injuries the team faced this season, it showed courage to battle back like it did.
"There's always ups and downs in everything you do," Boone said. "We just really enjoyed this group of kids. They are a wonderful group."
More like this story