Seniors help young runners make big strides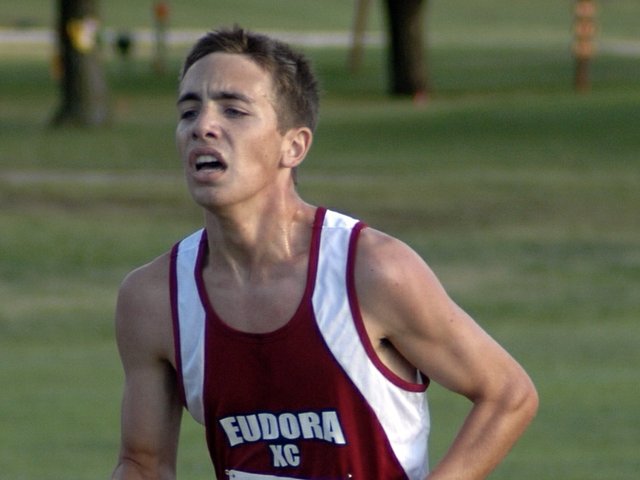 The Eudora boys cross country team battled injuries most of the season. But thanks to some senior leadership, injuries didn't bring the team down.
"I can't express how much I appreciated those guys," Eudora cross country coach Paul Boone said. "Our guys were just so coachable and good communicators. I really appreciate seniors who communicate well and our guys did."
Eudora had four senior runners, but just Chase Brecheisen ran all four years. Boone said Brecheisen was a good team leader.
"He hasn't always been the top runner but this year he led the team at the first meet, so he set up some new standards for himself," Boone said. "And he kept that good leadership all the way through the season."
Colby Root, Alex Tacke and Nima Jafari were the other seniors. Root ran cross country for two years and led the team at Rim Rock meet, and Tacke and Jafari ran this year. Boone said having more experience in cross country early on in high school careers would be beneficial to future runners.
"Especially with cross country, and boys specifically, it takes a while because a lot of guys mature at different rates," he said. "And it takes some experience and gradually building miles before you really realize your potential."
One runner who has showed great potential over the past two years is sophomore Ivan Espinosa. He has been Eudora's No. 1 runner the past two years and battled injuries early in the season. Espinosa didn't compete in a meet until about mid-season but he battled back and finished 11th at the league meet, ninth at regionals and 31st at state. He was also a second-team All-Frontier League selection.
"Ivan is a kid that has the opportunity to be one of the elite in 4A," Boone said. "Class 4A boys cross country is full of guys who are hungry and talented as a group from top to bottom for several years.
"So if you want to make an impact on that, you're going to have to do more than just workout in the season. Ivan has great potential."
This season Espinosa would strategically pace himself early in the race and then make a strong finish. Boone said having maturity and sense of presence knowing when to push hard and when to pace was key to Espinosa's success.
"Having the courage to run from behind is an overlooked quality," Boone said. "But it's smart. It shows wisdom. Ivan really has wisdom beyond his physical age. He's had a lot of good runs."
The squad took sixth at the league meet and Boone hopes the young squad will improve on that next year. The team will be young again next year but could benefit from a few freshmen, including Keenan Wood, Colin Forsberg and Garrett Zook who gained valuable experience this season. At the meet at Gardner, Wood was about 30 yards behind two runners who were nearing the finish line. Wood sprinted to the line and caught both runners. It was a personal best time for Wood this year.
"That young man has come a long way in a season," Boone said.
With the season now over, Boone and assistant coach Dave Kuhlman will meet with each runner and discuss the season and goals for next year. The runners will take a little bit of time off but some will continue to train this winter.
"This is the time to build miles," Boone said. "And those kids who do it will reap the benefits."