Firefighters respond to fire at Eudora Methodist Church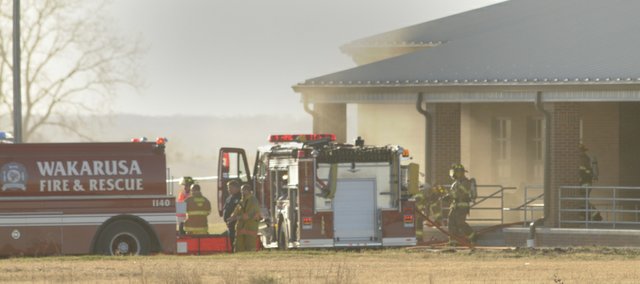 Firefighters from five Douglas County departments fought a fire at a Eudora Church Monday afternoon.
Fire broke out about 2:15 p.m. at the new Eudora United Methodist Church in southwest Eudora. Though the exterior of the structure showed no visible damage, dark, black smoke billowed out of the building when doors or windows were opened.
"It's a tragedy and especially at the holiday season," said church member Bill Westerhouse who watched fire fighters try to contain the fire. "There are a lot of people that put in really their whole life for two years into making it and I'm sure they'll be back."
The church, which opened in February of this year, was built to be environmentally friendly. Many of the church's members contributed to its construction.
Crews from Eudora City Fire Department, Eudora Township Fire Department, Wakarusa Township Fire Department, Palmyra Township Fire Department and Lawrence Douglas County Fire and Medical responded to the scene.