Businesses feel effects of economy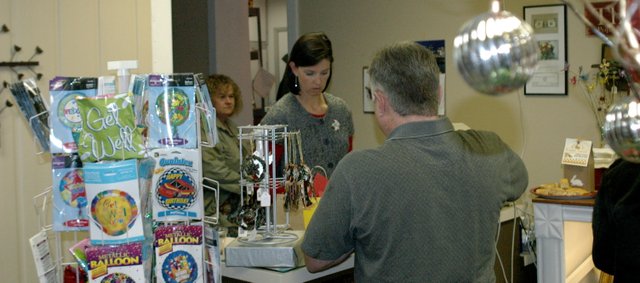 Dan Strimple said business patterns he usually sees at his downtown eatery haven't held true this year.
Strimple has owned Cutter's Smokehouse and Pub, 726 Main St., for about seven years. He said he usually has a slow start to the year and then things pick up in the spring. Sales dip a bit again in the summer — though July's CPA Picnic is always a solid couple of days — and then sales stay up throughout the fall and into December.
"We haven't had any really good anything this year, to be truthful," Strimple said. "We missed out on CPA Picnic and all of the special events that normally carry you through (the year). And for downtown, we all missed them down here. That hurt."
According to the Kansas Department of Labor, the number of initial claims for unemployment compensation increased by 4,593 from September to October.
Department of Labor Economist Tyler Tenbrink said in a press release that the weakening economy has lead to consumers spending less, and he expected holiday spending activity to decrease.
Cutter's is one of a number of Eudora businesses that had been seeing profits lessen before the stock market began to plummet this fall.
Strimple said some of the blame for the slumping in sales has to do with the construction occurring in on Main Street as part of the downtown beautification project. The project shut down the east side of Main Street — where Cutter's is located — from July until mid November.
He said he's lost about 25 percent of his customers in families and the elderly.
"I had a gentleman in here the other day who said 'You know, it's just a pain to come downtown right now,' and he was in his mid to upper fifties so it's easy for him to get around," Strimple said. "But some of the elderly just don't want to take a chance."
Strimple has looked into leaving downtown, but the curiosity of seeing if business improves after construction is finished is keeping him around.
"Everybody's got to try to see what's going to happen once this is all over with, and hopefully everybody is still down here," Strimple said.
One of his fellow downtown businesses — Broers Flower Shop, 729 Main St. — has seen declines in business, but owner Heather Noble said she didn't think the construction had anything to do with it.
About 70 percent of her clients call in orders to the shop, which she has opened about one year ago. She also said she thought the decline in business was as a result of the state of the economy, as well.
She said last year, she made 10 Halloween centerpieces, compared to two this year. The demand for holiday centerpieces also has fallen.
"I think it's just flowers in general — I get a lot of lookers," Noble said. "People think they only need flowers when someone dies or gets married."
Furthermore, Noble said she can't compete with the prices and convenience of stores such as Hy-Vee and Wal-Mart.
"We're worried because it's slow, and you've still got to pay the bills," Noble said.
For most of the year, Gambino's Pizza, 1492 Church St., has seen great numbers, partly because of a price increase in January.
But couple of weeks ago, owner Aaron Boden experienced a bit of what Noble and Strimple have dealt with. He said he typically sees a slight decrease after high school football season, but nothing like what happened earlier this month.
"In the second week of November, it shut off," Boden said. "Sales dropped dramatically and we were at lower points than we saw last year. It was scary."
He thinks the economy plus the addition of a Subway sandwich restaurant were to blame.
Business again picked up last week, though.
Boden, who has owned the chain store for about eight years said he has confidence in his business because of his involvement in charitable giving throughout Eudora. He's also got a new advertising campaign coming out.
"We feel like we give back enough to still create that loyalty," Boden said. "I think that's why we're still going strong"
The one thing all three businesses had in common was they all said the media was over dramatizing state of economy.
"We're all open downtown," Strimple said. "I know other people are having the same concerns as I am. But it's kind of funny because we didn't see our big drop until the media started telling us how bad the economy was, and then everybody quit. I wonder what would happen if people didn't hear about it on TV all of the time."
Strimple knew owning a business was a risk, but he hopes consumers will weather the economic downturn just as he plans to.
"These are the toughest times we've ever seen, but we're kind of resilient and we go with the flow, so I'm not to worried," he said. "And if fear was a factor, I would have quit seven years ago."