Eudora church fire ruled accidental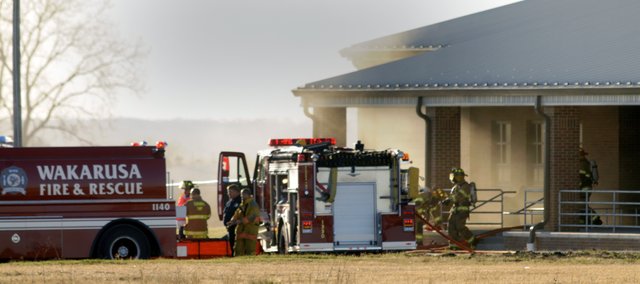 Fire broke out about 2:15 p.m. at the new church in southwest Eudora at 2084 N. 1300 Rd. Though the exterior of the structure showed no visible damage, dark, black smoke billowed out of the building when doors or windows were opened.
Meanwhile, members of the Eudora United Methodist Church in southwestern Eudora will begin to meet at the Warren-McElwain Mortuary's Eudora chapel until renovations can be made.
Sevices will be at 10:30 a.m. Sunday and Sunday school for children and adults will begin at 9:15 a.m.
"We're just going to come together. We know we can renovate it, and we can do it," said the Rev. Michael Tomson-DeGreeff.
A fire started in the sanctuary Monday afternoon. The altar suffered fire damage, and smoke also damaged the building. No one was injured.
Although the Kansas State Fire Marshal's office will classify the cause as unknown, the preliminary cause is believed to be a candle that was not properly extinguished.
The church opened in February, and many of the church's 220 members contributed to construction. Insurance adjusters are still investigating the damage.
"It's a tragedy and especially at the holiday season," said church member Bill Westerhouse who watched fire fighters try to contain the fire. "There are a lot of people that put in really their whole life for two years into making it and I'm sure they'll be back."
More like this story