Run ends early
A few more points and Eudora's 4-5 season could have been much different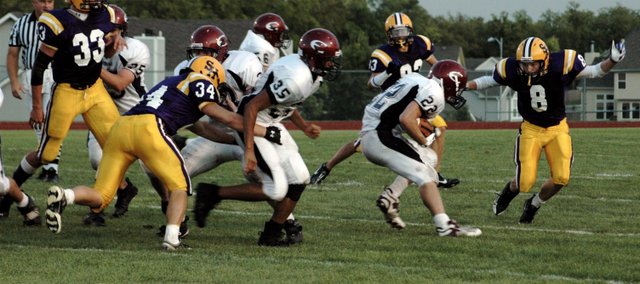 One more point and the 2008 Eudora High football season could have looked a lot different. One more point against Baldwin and Eudora still might be playing.
"The season for us isn't really over until the last team that we played is finished," Eudora coach Gregg Webb said. "And it's a little frustrating still knowing that we could have been playing the schedule that Perry's playing right now and they made it to the state championship.
"And the part that's frustrating for us now is watching them play a schedule and winning games we felt like we could have been playing and winning as well."
The 2008 season for the Cardinals was an up and down roller coaster ride that started with a disappointing 14-13 loss to Spring Hill and ended with a heartbreaking 35-28 victory on Senior Night against Baldwin. Eudora needed to win by eight points to make the playoffs, and if it won by 10 it would have been district champs. The Cardinals had a 14-point lead late in the fourth quarter, but Baldwin scored a touchdown in the game's final minute to end Eudora's season.
Webb said that the Spring Hill and Baldwin games were examples of how close Eudora really was all season. Against Spring Hill, Eudora fumbled the ball too many times but still had a chance to win the game. And against Baldwin, a fumbled snap and a late drive sealed Eudora's fate.
"So many times we felt like we were just one step away or one play away," Webb said. "And the signature of this team was just not being able to make a play when we really needed to, whether it was holding onto the ball on a fumble or catching a pass — little things really hurt us.
"We had multiple chances to go ahead and finish that game ahead 14 points and win our district and just couldn't do it. It just didn't seem like the ball was bouncing in our favor."
Injuries also hurt Eudora early on. Wide receiver Bryan Dudley and fullback/linebacker Boomer Mays both went down before the first game and Ryan Fisher went down with a shoulder injury in the second game. Webb said the team also didn't play quite as well as a group as what he thought it would early in the year.
"Every position group had their own little issue that added up to where we didn't get any consistency to speak of that you need to get into a groove and get into a routine where you're going to become better and better at every position and therefore your team," Webb said.
Eudora (4-5) struggled to stop the pass all season, and part of that was the Cardinals inability to put pressure on the quarterback. Eudora had to rotate its defensive line most of the season and the finished the year with just four sacks.
Another position where the team used multiple players was at quarterback. Christian Richardson, Drew Noble, Evan Cleveland and Fisher all played QB at times. But offensively it was Fisher who stood out the most.
Fisher ran for 1,826 yards and scored 20 touchdowns. He was named the team's MVP and was a first-team Frontier League selection at running back.
"It was obviously very beneficial to our football team to have Ryan," Webb said. "The frustrating part is only being able to show what Ryan could do in a couple of games before he got hurt, and then a couple of games late in the year as he was healing. But there were so many games that if he would have been healthy, we would have had a much better chance of winning.
"I hope all our kids and our fans appreciate being able to watch a talented kid like that — a kid who committed himself and worked so hard for four years because those kids don't come around every day. And he will be very difficult to replace."
Webb said that Eudora would look to replace Fisher not with just a single player but in a variety of ways.
"Hopefully the other kids around that spot will be able to take up some of that slack," Webb said. "And we're hoping that our wideouts will be good enough to be able to throw it a little more than we did this year."
On offense, Eudora will also lose, among others, senior fullback William Gadberry and left guard Cody Carlson. But the Cardinals will return the rest of their offensive line that paved the way for 2,923 yards on the ground.
Webb said next year's team could learn from the close lessons of 2008 and use them as motivation for next year.
"We have some good young kids, who if they chose to can be very, very good," Webb said. "And if they don't take anything else out of this year, they can take how close they were and with a little more effort and consistency in the offseason, it will go a long way in predicting our season and how we're going to end up."