Taken down
Cardinals can't recover from early first quarter deficit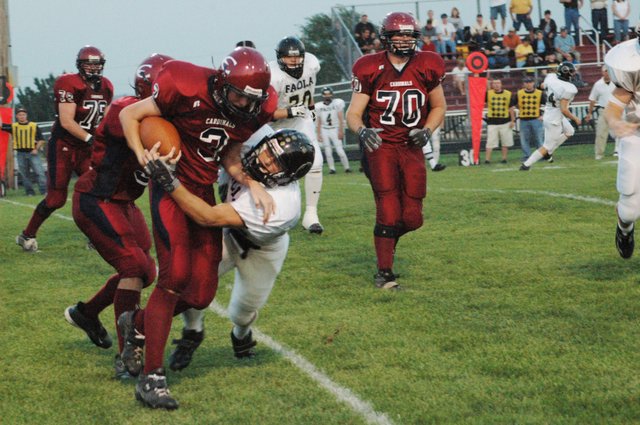 The first play of the game may have said it all for Eudora.
The Cardinals lined up in the wrong formation, which drew the wrath of coach Gregg Webb. Webb called timeout, trying to get his team to focus. But the timeout did little, and Eudora looked out of sync from the start and fell to Paola, 35-21, last Friday night at Laws Field.
"We had to be ready to play because their kids aren't too bad, and we were not ready to play. I don't know for whatever reason," Webb said.
Eudora found itself in a 21-point hole just seven minutes into the game. Paola tailback Skylar Hawkins, who ran through the Eudora defense all night, scored the Panthers' first touchdown on a 20-yard gallop on Paola's first possession.
Paola soon found the end zone again after Eudora bobbled a snap back to the punter. QB Adam Henn capitalized on the good field position and scored on a 1-yard plunge. The Cardinals Evan Cleveland then fumbled the kickoff, and Hawkins scored on a 28-yard run to give Paola a commanding 21-0 lead with 5:36 to play in the first quarter.
In just seven offensive plays, Paola had scored three touchdowns.
"We had some huge gaffes on defense with assignments and our effort up front was not good the first quarter," Webb said.
The Cardinals (2-2) began to crawl back into the game by using the legs of Ryan Fisher. Fisher, who missed last week's game with a shoulder injury, scored on a 13-yard run to cut the lead to 21-7 at the end of the first quarter. But Hawkins answered that score with a 28-yard run for his third touchdown of the half to make the score 28-7 at the break.
Hawkins had 138 yards and three touchdowns in the first half and finished the game with 239 yards and four touchdowns off 27 carries. Webb said a makeshift secondary was part of the reason the Cardinals had trouble containing Hawkins. Fisher was coming back from an injury and Zack Bryant also was injured in the game.
"We don't have the greatest athletes in the world and every one of them has to play really fundamentally sound and we didn't," Webb said. "We have some issues defensively. We've known we've had some issues defensively since camp and then when Fisher gets hurt and Zack Bryant got hurt, then we're really depleted in the secondary and we were trying to mix and match."
The Cardinals showed some fight in the second half as they forced the Panthers to punt on their opening drive. Eudora then marched down the field and scored on a 35-yard run by William Gadberry. The PAT was no good and Eudora trailed 28-13. But Hawkins answered that score with a 3-yard touchdown run late in the third.
The Cardinals answered back on a 1-yard quarterback sneak from Evan Cleveland early in the fourth, but that was as close as the Cardinals would get to catching the Panthers.
"I'm proud of our kids," Webb said. "They played hard. They do whatever we ask them to do. Their effort is solid and we just have to work on fundamentals and understanding the game. We don't understand the game too well, but that's high school football."
In his return Fisher racked up 172 yards on 26 carries and scored one touchdown.
"He's a tough kid and we didn't intend to play him that much," Webb said. "But he kept telling us that he felt pretty good, and we shouldn't have played him that much, but he wants to play. It's his senior year, I'm going to let him play."
The Cardinals will play next at 7 p.m. Friday at Louisburg.