Eudora
USD

491 receives

FEMA

grant for safe room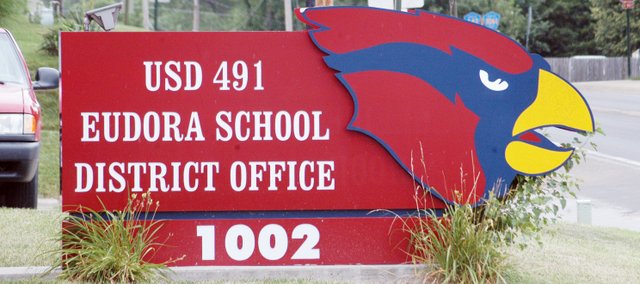 Eudora USD 491 on Wednesday announced it was awarded a $566,677 FEMA grant for the construction of a tornado safe room in the new Eudora elementary school.
The grant will pay for 75 percent of the cost of construction, with Kansas Emergency Management paying $75,557 and USD 491 paying $113,335. The total cost of the shelter will be $755,569.
The room, which will be located on the south end of the school in the commons area, will be able to hold up to 800 students and staff members in the facility as well as withstand projectiles moving at 250 mph.
The new $27 million elementary school in northeast Eudora will open in fall 2009 and will be home to the district's first- through fifth-graders.
It is part of the $45 million bond passed by Eudora voters in November 2007.
Superintendent Don Grosdidier said Terri Smith, director of Douglas County Emergency Management, informed him the room is not just the first of its kind in Douglas County, but also in northeast Kansas.
Smith said she was pleased to see the district get the grant, but also pleased with its commitment to safety.
"It really goes to show you the importance that we in Emergency Management put on building safer communities and that the school district also really sees the value in doing a project like this," Smith said.
Because it likely will be one of the safest structures in the area, the USD 491 Board of Education will decide policies for community use of the shelter at a later date.
Grosdidier said collaboration between several agencies was the key to acquiring the grant.
"One of the neatest things about this is it shows what can be done when a lot of groups collaborate because not only do we get a safe room that will protect our children and staff from tornadoes, but we get a lot of federal tax dollars to help do that," Grosdidier said.
Most notably, he said a lot of the credit should go to Eudora City Administrator Cheryl Beatty and her assistant Pam Schmeck for working this summer to develop a mitigation plan for the city. Having an approved mitigation plan allowed the district to move forward in the grant application process.
"They deserve a lot of credit because we could not have applied for the grant had they not done that," Grosdidier said. "We really appreciate their efforts on behalf of the community in helping us obtain the grant.
Smith also said the manner in which each of the entities involved worked with the one another was integral to the process.
"We can write all of the plans we want, but if we don't have the buy-in and the collaboration and the work among everybody, it's not going to happen," she said.
For more information and the grant, visit
www.eudoraschools.org/bond.