Boden given festival's Citizenship Award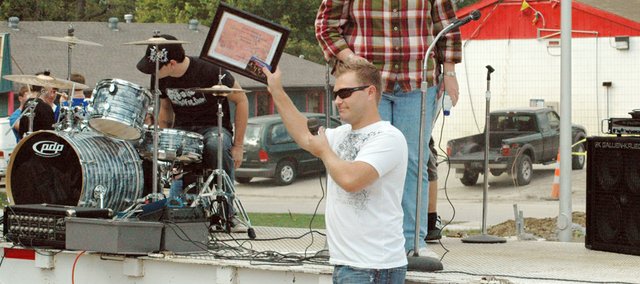 The EudoraFest Committee on Saturday gave Gambino's of Eudora owner Aaron Boden the EudoraFest 2008 Citizenship Award.
The award is given to a person who has supported EudoraFest, but not necessarily someone who is on the committee.
"He's supported us in so many ways for almost as long as I've been on (with the committee)," Marilyn Neis said.
One of the main ways Boden has supported EudoraFest is through the Kids Path to Pizza, wherein children are given a card they must have stamped at five out of six selected locations. They then can receive a free pizza from Gambino's.
Boden said he has been providing the activity for EudoraFest for about five years.
"I feel like it's an obligation to give back to the community that gives so much to me," Boden said. "We run a good business here and we've been fortunate enough to increase sales so I give back."
He has owned Gambino's for about eight years.
Being charitable was something instilled in him by his parents, he said.
"It was definitely something I grew up with," Boden said. "My parents were farmers and they were givers."
Boden's giving hasn't been limited to just EudoraFest, as he also donates to Friends of the Library, Youth Football, The Eudora High School 12th Man and the EHS Diamond Club, among others.