EudoraFest different, but successful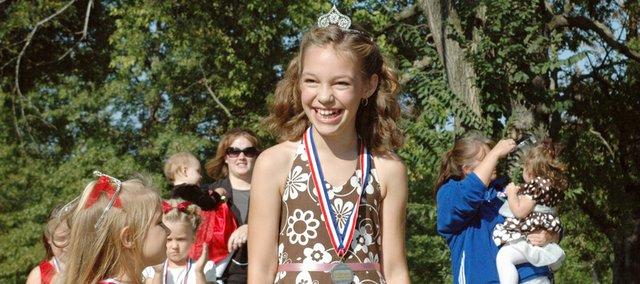 Despite changes to the festival because of the downtown beautification project and events in surrounding areas, EudoraFest Committee member Marilyn Neis said EudoraFest 2008 still was a success.
"We knew it wasn't going to be as big as it was in the past, but I think it's been pretty good and we had a good bunch of vendors," she said.
Construction on Main Street didn't cancel the festival, but it certainly changed the face of it. Vendors did not line Main Street as they had in years prior, but instead were in the dirt parking lot of the Eudora Community Learning Center as well as inside the CLC's gym.
As a result, there was less foot traffic through businesses on Main Street.
Several people also noted the event was not as well attended as it typically has been.
Neis said that likely was because of the Get Downtown music festival in Lawrence, the American Royal BBQ festival in Kansas City, Mo., and the Louisburg Cider Festival also were taking place on the same day as EudoraFest.
"There's always been something else, but I think it was more so this year," Neis said.
But as Neis sat and watched the talent show Saturday, Don Grosdidier complimented her on the festival and thanked her for her hard work. It was as though there was nothing different about this year.
Neis, who along with Stan Byrne are the only two members on the committee who were there for its inception 12 years ago, said the pats on the back make the hard work worthwhile.
"It's a good feeling when you put it all together," she said. "It's nice to sit and watch the talent show and take it all in. EudoraFest lets people know that downtown Eudora is alive and well and it promotes the city. It's a fun thing where everybody is welcome."
Neis already is looking forward to next year, when construction on Main Street will be finished and the festival can return to normal.
"Knowing that we won't have to be down here working in the dirt and the rocks will be nice," Neis said.