USD

491 makes

AYP

and more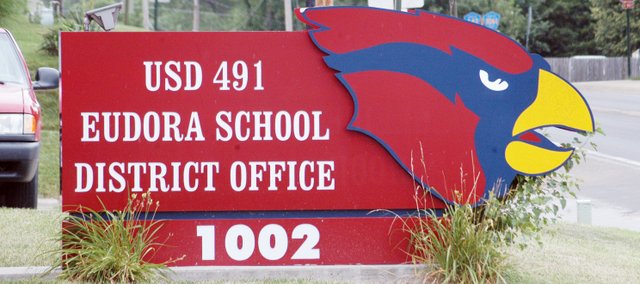 Not only did Eudora USD 491 make adequate yearly progress for the 2007-2008 school year, but it also received 18 of 24 possible standards of excellence from the Kansas State Department of Education.
The district had received 10 standards of excellence in 2006-2007, nine in 2005-2006 and 11 in 2004-2005.
Areas of excellence included reading and math for the seventh and eight grades; history/government for the eighth grade; reading and math at the building level for the high school; science for the fourth grade; and reading at math for the third and fifth grades.
Students at Nottingham elementary are not tested.
At the district level, 88.3 percent of students met or exceeded the standards in math and 88.1 percent of students met or exceeded the standard in reading.
Both of those scores are up from last year, when 86.3 percent of students met or exceeded the standard in reading and 85.33 of students meet or exceeded the standard in math.
Interim Director of Curriculum and Instruction Marla Johnson said the scores were the result of the efforts of both students and teachers.
"I would attribute them to the excellent staff and education that is provided by the Eudora School District as well as the hard work of our students."
The district was well above state AYP requirements across the board, exceeding standards by more than 20 percent in many subject.
Johnson said in order to continue to see progress on the assessments, teachers concentrate on certain areas on which to improve, but not to the degree that teachers craft lessons specifically for the test material.
"I'm very pleased with all of the scores but I'm impressed that our science and history and government scores were so high because this was the first year for giving that test and it's not normal to score so high on the first year of a test."
Sixth-, eighth- and 11th-graders were tested on History and government. With 90.6 percent exceeding standards, sixth- and eighth-graders exceeded state requirements by 20.6 percent and 11th graders exceeded state by 29.8 percent, with 97.8 percent exceeding standards.