Cardinals fall at home to Wildcats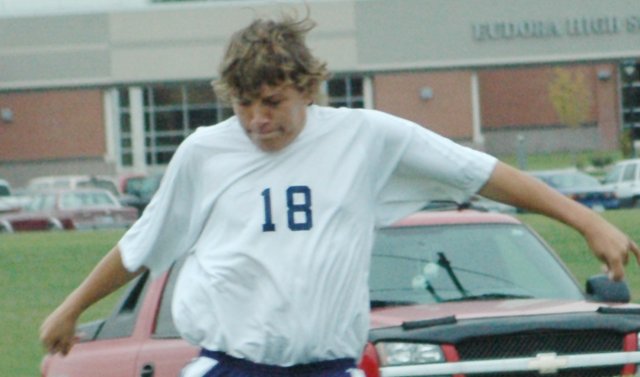 The Eudora soccer team's winless season didn't get any better Tuesday night.
It was a tall order to take on Frontier League champion De Soto. But to make matters worse, the Cardinals had to cover for injured starting goalkeeper Ben Miller, who recently dislocated his kneecap.
Eudora could muster just one shot in response to De Soto's offensive onslaught. And the 5-0 final score could have been much worse if not for some difficult saves by Miller's replacements, Derek Scrimsher and freshman Michael-Shayne Baxter.
Despite the ball being stuck at the Cardinals' end most of the game, the patchwork defensive unit gave up only two first half goals.
All things considered, Eudora coach Gunar Harmon said it wasn't a bad effort.
"The other team's quicker, they're better technically and they're better organized," said Harmon, bluntly describing what his team was up against. "So I was quite satisfied with how we played."
The loss dropped the Cardinals to 0-13, a record that doesn't reflect the improvements Harmon said his team had made this year.
"Just when we start to get it, the season's almost over," Harmon said. "Thirteen losses, the attitude is, well, they're holding it together. They're doing well, considering. It's just been a long season."