New forensics class lauded by students, staff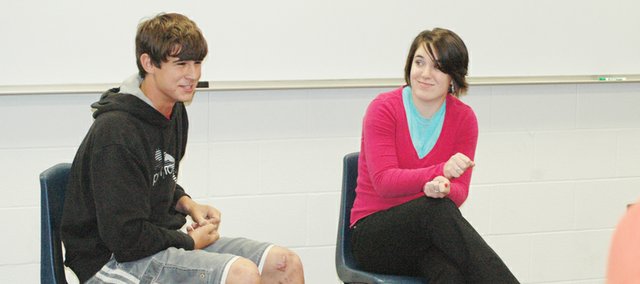 Eudora High School Junior Tyler Beebe isn't in the school play, and he's doesn't participate in forensics. But that didn't mean he couldn't see the positive effects of taking the new speech and forensics class at EHS.
"I figured it would be a good way to prepare for making speeches and talking with people," Beebe said.
Linda Riedel teaches the class and said there are lots of other students like Beebe.
"Not all of them are your typical kids who want to be in drama, speech or theater," Riedel said. "But I think they know they need some support in the communication area and that's a great thing."
Riedel also is the director of the fall play and coaches the forensics team. She said the class not only would teach the students principles such as projection, annunciation and facial expressions, which are important both on and off of the stage.
"It's going to make a huge difference because it teaches the basics of communications," Riedel said. "They need to work on that whether they're giving a speech or interviewing for a job."
EHS Principal Dale Sample said the class was badly needed and was a good example of the district's aim to educate "the whole child," which is to say that each child's unique abilities — whether it be math, writing, drawing or acting — are strengthened.
"It's a class probably every student should have, and it would be nice if we could make it a requirement," Sample said. "It does educate the whole child and builds self confidence, and Linda's done a good job with it, too."
Riedel is in her second year of teaching at EHS, but has coached forensics for 24 years. Last spring, she lamented the lack of students — just 15 — who were on the forensics team. She believed the first step in getting the program where it needed to be was to begin a speech and forensics class
So, Riedel approached the EHS administration about the class last year, and she was told at least six students would need to enroll in the class for it to be added to the schedule.
The class is full, with 22 students enrolled.
Senior Rebecca Dreifuss has been on the forensics team for four years and said she already can tell the class will help strengthen her abilities.
"We get to go through a lot of different parts of forensics," Dreifuss said. "We can always use what we learn in here later on in the year when forensics does start."
The improvisational exercises the students do in the class also have Dreifuss and junior Katie Donner a bit more confident about their upcoming performances in the fall play.
"We're performing right now in front of our peers, and usually performing in front of your peers is harder than performing in front of people you don't know, so it's nice," Donner said.
All three students praised Riedel and commented on her high energy level.
The fall play this year — "Jolly Roger and the Pirate Queen" — will be Nov. 14 and 15 in the Eudora Middle School Auditorium.
And with the cast containing more than 30 students, Riedel also said they could use any costume and set donations.