Pedestrian committee has safety summit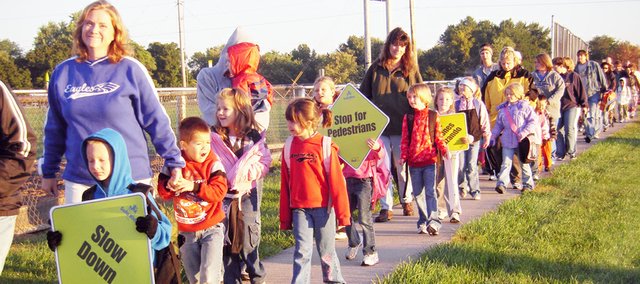 On Oct. 8, A small group of concerned citizens at a community safety summit heard from a panel organized by the Eudora Pedestrian Safety Committee. The panel discussed motor vehicle, bicycle and pedestrian safety issues throughout Eudora.
On the panel was Eudora Superintendent of Schools Don Grosdidier, Lt. Wes Houk of the Douglas County Sheriff's Office, Eudora Chief of Police Greg Dahlem, Eudora High School student Emma Kruger, Eudora City Administrator Cheryl Beatty, and Eudora Parks and Recreation Director Tammy Hodges.
The meeting, which was moderated by Lawrence Memorial Hospital community education specialist and coordinator of Safe Kids Douglas County John Dress, sometimes sounded like an intervention for a beloved family member or friend.
Drees told the group a culture change was needed in order to see better pedestrian conditions in Eudora. Moreover, Beatty said one of the first steps in changing the culture was getting people to admit there was a problem.
Each of the panel members took turns talking about their perspective on the issues.
The meeting became especially emotional when Houk and Dahlem spoke about the loss this last June of Douglas County Sheriff's Lt. David K. Dillon. Dillon was riding his bicycle in the 1900 block of North 1400 Road when he was struck and killed by a vehicle.
Houk was a close friend of Dillon's and had to take a moment to compose himself as he spoke about the fact that Dillon had to ride on the road because there were no safe areas for him to ride.
"It's vital for the community to take action and come together," Houk said. "We need to have safe places for our children, adults and elderly to walk, ride and not have to worry about that car passing them within inches and having another tragic accident."
Dillon is collecting accident data in and around the city limits of Eudora in order to illuminate the need for safe routes.
Dahlem also knew Dillon and said he used to stop by Dahlem's home when on bike rides. Dahlem read traffic citation statistics to the group, with the most chilling having to do with DUIs
Of 208 traffic citations to date in 2008, 43 have been for driving under the influence. Ten of those pulled over were second- or third-time offenders. Seventeen of the DUI citations were given because the driver was speeding —many times in excess of 100 mph. And in two instances, there were children in the car during a DUI arrest.
Children were part of the reason EHS Junior Emma Kruger has been serving for three years with Safe Kids Douglas County. She said she doesn't want something bad to have to happen to her classmates or the children who attend her mother's daycare center in order for people to change.
"I just stand outside the school and watch as kids leave and every one of them is on their cell phone so you know they aren't going to pay attention (to the road)," Kruger said. "It makes me want to change their mind and make them realize that it's not just them out there."
Drees was happy with the meeting despite the low attendance.
"I think people have already made their points and they know their leaders have paid attention to this and they trust them," Drees said. "The main thing is they had an opportunity to make their point."
And regarding the culture change Drees spoke of, Houk said the meeting was a great first step in creating that change.
"I think Douglas County has a great opportunity to take advantage of what we have around us in our scenic areas in order to make wider sidewalks and trails," Houk said. "And when you put safety at the forefront, it's hard for anyone to argue with that."