Volleyball team finishes 6th at Spikefest, goes 1-2 at Baldwin quad
Frontier League tournament awaits
EHS

squad on Saturday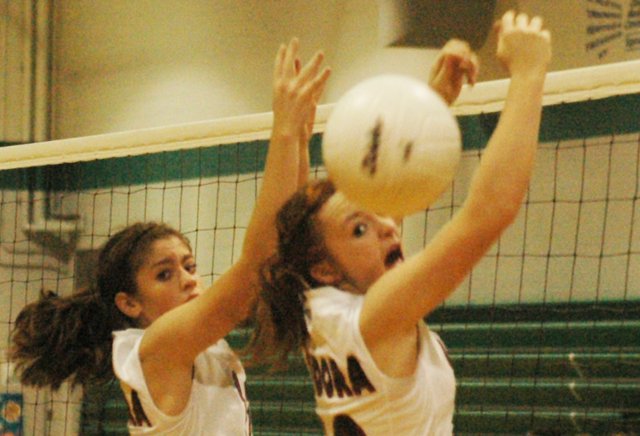 Finishing near the middle of the pack last Saturday at the De Soto Spikefest was not the goal Jill Stutler had in mind for her Eudora volleyball squad.
The Cardinals went 2-3 on the day and finished the tournament in sixth place overall out of 10 teams. Eudora lost to Spring Hill in three sets to finish in sixth. In pool play, the Cardinals fell to Tonganoxie (16-25, 22-25), St. James (9-25, 11-25) and defeated Basehor-Linwood (26-28, 25-20, 25-19) and Baldwin (25-11, 25-23).
Stutler said the Cardinals again improved their play as the day progressed.
"I think in some aspects of the game we got better as the day went along," she said. "We battled throughout the day. We put ourselves in position again to have to play from behind and catch up.
"The first game against Baldwin we played well. We need to do a better job of finishing during the matches instead of letting teams back in. When we play scrappy, we play well. But we have that inconsistency in our effort that causes us to loose several points throughout a game."
Eudora has just three seniors on the team and has been playing with four underclassmen, including three freshmen: Katelyn Abel, Morgan Wiley and Jennifer Bowser. Of the three freshmen, Wiley and Bowser have logged the most minutes and have gained valuable playing experience.
"Morgan and Jennifer are holding up well," Stutler said. "Morgan is playing through a bad shoulder. She is one of our best passers that we have and a consistent hitter."
And Bowser has opened some eyes with her athletic ability.
"We are trying to still get her timing on her hits and block," Stutler said. "When she can get that down she will be big for us. The tempo and intensity of the game is so much quicker at the varsity level and being a freshman you will always have a learning curve but they are progressing in a positive way."
The Cardinals traveled to Baldwin Tuesday night for a quadrangular with Baldwin, Louisburg and Paola. The Cardinals went 1-2 on the night, losing to Paola and Louisburg and defeating Baldwin (25-21, 25-13).
Next up for the Cardinals is the Frontier League tournament Saturday at Eudora.
"We want to see that level of play to prepare us for the postseason," Stutler said. "I am not concerned about any team that we will see this weekend except for our team.
"If we play to our potential and are scrappy on the defensive side of the ball, we are a tough team as well. We are really emphasizing to the girls how important it is to play with a sense of urgency the next two weeks."