Candidates support Parents as Teachers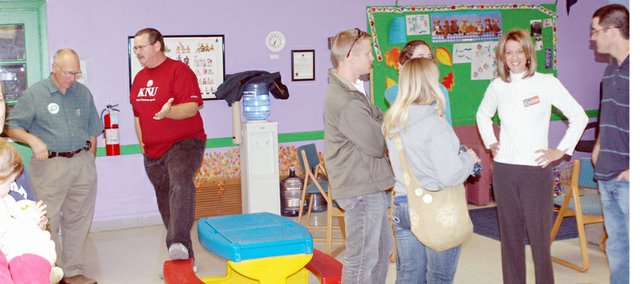 Candidates for seats in the Kansas House and Senate attended a gathering of families at a Parents As Teachers playgroup, expressing support for the program.
Stephanie Kelton, a Lawrence Democrat and candidate for the Kansas 38th District House seat, and incumbent State Senate candidate Roger Pine, R-Linwood, attended the Oct. 15 gathering. Incumbent state Rep. Anthony Brown, R-Eudora, was invited but did not attend.
Parents As Teachers is a national organization for families with children between the ages of birth to 3 years old. Its purpose is to educate parents about their child's intellectual, social, emotional and motor skill development.
"We know so much more now than we did two or three decades ago about how important it is for children to be exposed early to a variety of activities and learning techniques," Kelton said.
Kelton and her husband Paul have been enrolled in the Parents As Teachers program for about three years. She said having a parent educator come into their home and talk about concerns that typical new parents have was invaluable.
Pine, who serves on the education committee in the Senate, also has seen firsthand the positive effects of Parents as Teachers because his daughter and daughter-in-law are enrolled, though not in the Eudora program.
"What we have learned is the earlier you can detect any issues that a child has that could impair their ability to get an education, the better chance they have at having a normal education and take their place in society," Pine said.
The program is offered free through the Eudora USD 491 and there is no screening process. Parent educator Mary Jo Cline visits homes every six to eight weeks and has playgroups every two weeks in the Eudora Community Learning Center.
Klein said that in many cases, parents don't understand why they do what they do with their children. Parents As Teachers helps parents realize the reasoning behind what they typically do naturally and how that can help their children.
"We want to educate parents on their child's development and milestones with understanding how the brain works and have the parents understand how important play is and how the kids learn through play."
Cline said people do not seem to understand how important the first four years of a child's life are in the context of how well they'll do in school and even the rest of their life.
Cline was pleased to see the candidates attending the group and supporting early learning.
For parents who were in attendance, early learning ranked high on their list of issues when it comes time to take to the polls and were glad to see the candidates take an interest.
"I have to say it's at the top of my list because my child is the most important thing to me, and children in general should be so much more important," Marie Kohart said.
Kohart and her husband Chris enrolled in the program shortly after the birth of their daughter Ava about 18 months ago.
Justin Jennings, who has a child on the way and attended the group with friends, said the candidates' presence showed him what they valued.
"I think it speaks a lot to their interests and their desire to make a difference in the community."
Though it definitely was a place to do some campaigning as election day grew closer, Kelton said the welfare of children should be something that is a concern regardless of the party to which one claims allegiance.
"These are our children, our greatest resource and there really is no room for politics. It's in everyone's interest to start them off in a healthy way," Kelton said.
For more information on Parents As Teachers, call
542-4920 or visit
www.parentsasteachers.org